Hong Kong, the world's largest processing center for shark fins, is getting less business. According to the environmental group WWF-Hong Kong, fin exports to the city fell 34% last year from 2012 levels. Shipments from Hong Kong to mainland China, a major market for the meat, fell even more dramatically—as much as 90% (paywall).
This is all happening against the backdrop of a conservation campaign against the consumption of shark fins, usually in soup form, a culinary tradition that environmentalists say has endangered some 29% of shark species. As we've reported, fin exports to Hong Kong make up about half of the world's global trade of the item. Considered a delicacy whose health benefits range from improving one's virility to lowering the chance of heart disease, a pound of dried shark fin typically costs between $300 and $500. And the global shark fin trade is worth up to $550 million (pdf. p. 18) a year.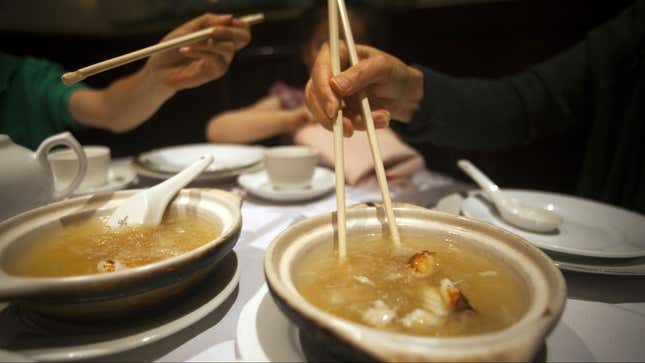 The latest decline points to a larger downward trend in shark fin shipments to Hong Kong, where the meat is processed and then sold to locals or exported to mainland China and other major shark-fin loving locales such as Vietnam and Singapore. Since hitting a peak in 2003 of around 12,352 tonnes (13,615 tons), Hong Kong's shark fin imports have fallen by more than half, and are now at levels not seen since the mid-1990s when the industry was just kicking off: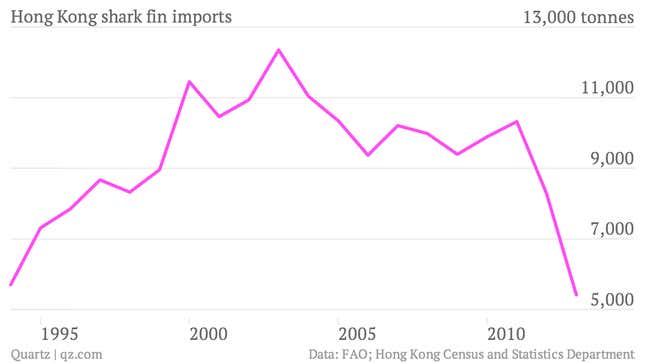 Over the past decade, authorities in Hong Kong and China have made efforts to curb the practice. Shark fin soup has been banned at banquets, and high-profile celebrities like basketball star Yao Ming have taken up the shark's cause. Most recently, Starwood Hotels & Resorts, which has operations throughout Asia, has pledged not to serve the dish.
"There has been some positive development. The trend of awareness is increasing among younger demographics," says Ben Freitas, an expert in illegal fishing at the World Wildlife Fund. Still, consumption is healthy enough in Asia that the hunting of sharks for their fins is still expanding to new parts of the ocean.
Broadly, it's hard to say whether world consumption of shark fin products is falling. Global exports of shark fin products, which include dried, frozen, and preserved fins, have increased since 1990s and only recently started to drop off. But data up to 2012 is incomplete because countries weren't required to distinguish shark fins from general shark meat, Freitas says. (Because of this, the following chart doesn't include EU shark fin exports.)