The numbers: Rough. Coach's profits plummeted 66% to $75.3 million from $221.3 million a year ago. The American high-end accessories brand's quarterly net sales fell 7% to $1.14 billion.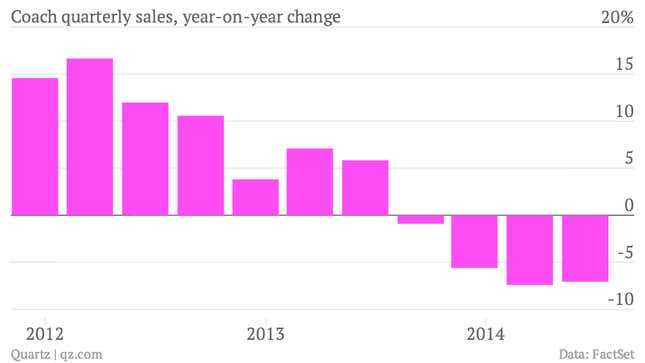 The takeaway: There weren't major surprises here. Coach reported similarly weak numbers last quarter, and recently announced plans to close 70 stores in North America. Now, the brand is undergoing growing pains as it attempts to remake itself as a complete lifestyle label and expand upon the women's handbag category, which CEO Victor Luis admitted has been "challenging" over the past year.
What's interesting: All eyes are on new creative director Stuart Vevers, whose task is to gain broader fashion credibility, and reclaim Coach's tradition of unfussy, functional design. The British designer showed the brand's first ever womenswear collection at Fashion Week in February, which he said he designed with Coach's all-American roots in mind. And while Vevers' vision was well-received in the US, China may present the best opportunity for selling it. According to Coach executives on today's earnings call, sales in North America fell 16% in the last quarter, while China climbed 20%, surpassing $500 million in the fourth quarter.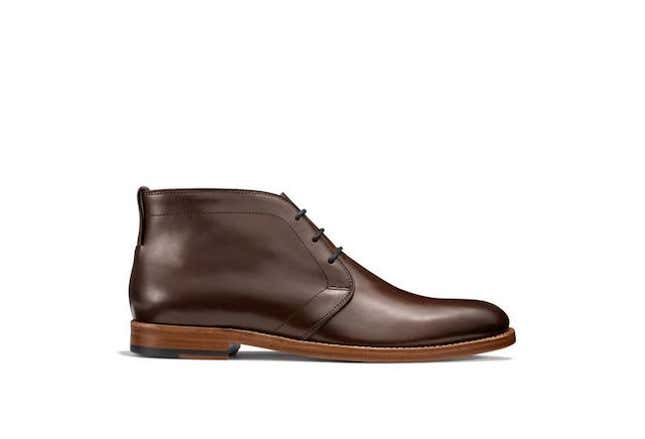 Men's sales were another bright spot in today's report, reaching about $700 million, according to Luis. Although the men's business makes up just 14% of the company's total sales, Coach expects it to grow steadily and faster than women's over the next five years. (As Quartz has reported, men make up the majority of the Chinese luxury market.) Just this week, the brand announced a new men's shoe collection—which is much dressier than Coach's current offerings—will be available this fall. And it sounds like men's clothing is also on the horizon. "We're launching a full collection," Greg Unis, who oversees global merchandising at Coach, told WWD. "We're not far off from its imminent future."