If you desperately need Wi-Fi while you're out and about, head to the nearest McDonald's. The world's largest fast food chain also boasts some of the fastest Wi-Fi speeds among public networks in the US.
According to data collected by the London-based app OpenSignal, McDonald's restaurants have faster Wi-Fi than any other in-store public network used by the app's smartphone users in the US. The average download speed in McDonald's eateries is 4.187 Mbps, over four times faster than speeds in Panera chains. Best Buy came in at a close second at 3.879 Mbps.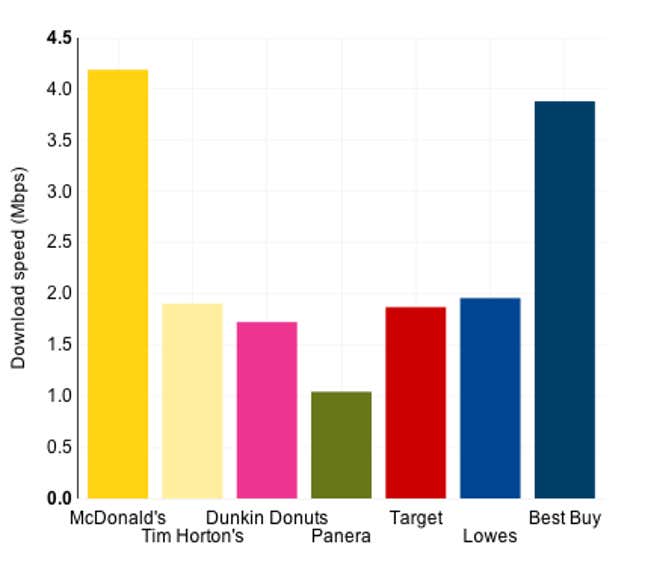 But McDonald's download-speed dominance doesn't extend much beyond chain stores. Many hotel groups in the US offer much faster speeds: Hilton topped the list at 8.477 Mbps.
Interestingly, the Wi-Fi in Disney parks is almost five times faster than the Disney hotel rooms. If you're on vacation in Disney World and need to download a large file, you're better off leaving your room and heading to the Magic Kingdom.
The full report contains a few other notable nuggets. Download speeds in US Starbucks chains nearly doubled when they switched from AT&T to Google. More generally, US Wi-Fi is much faster than cellular networks—on average, Wi-Fi download speeds are 2.25 Mbps faster than 4G LTE and 7.41 Mbps faster than 3G. In fact, mobile broadband networks in the US are extremely slow compared to most other countries.