If you want to know how the richest family in the neighborhood is doing, you'd do well to ask the neighbors.
Canada and the US are top trading partners, with roughly 75% of all Canadian exports destined for somewhere below the southern border. Month-on-month Canadian exports to the US were unchanged in June, according to just-released numbers. But compared to last year, business is brisk; Canadian exports to the US have risen 15.1% over last year, the best rise since December of 2013. That jibes strongly with data suggesting a peppier US economy.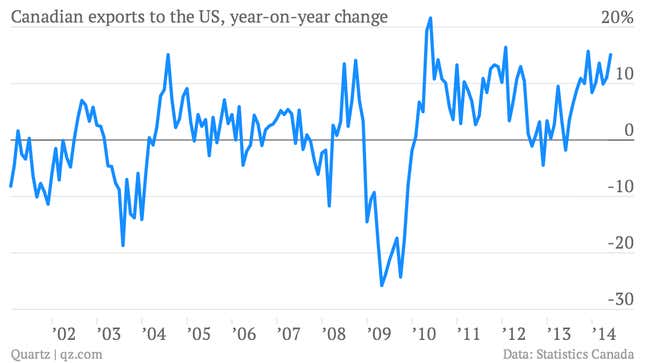 The largest US imports from Canada are energy, autos and machinery. And Canada's energy exports have been on a tear. In June they rose to an all-time record of C$8.9 billion ($8.1 billion). Auto exports have also been strong, hitting a post-crisis peak in May before declining somewhat in June. When it comes to Canada and the US, the neighbors always notice that new car parked in the driveway.