As the fighting in eastern Ukraine intensifies, some 20,000 Russian troops have massed on Ukraine's border, according to NATO. The risk of an open confrontation between Ukrainian and Russian troops is rising rapidly, Poland's prime minister warned today.
The economic war between Russia and the West is also escalating, with new sanctions seemingly announced daily—from the West banning arms exports to Russia, to Russia blocking agricultural imports from the West. Both sides claim that the measures will hurt the other more, but Russia's economy was already in pretty bad shape before the latest round of sanctions. The country's central bank has warned that trade restrictions will boost Russia's already high inflation rate, making its stubborn stagflation problem even worse.
But the latest opinion polls out today in Russia suggest that the public isn't all that worried. In fact, a record share of Russians, 66%, think that their country is going in the right direction, according to the Levada Center, a pollster (link in Russian):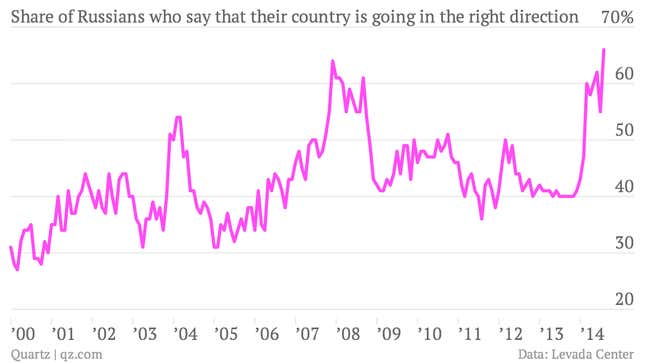 President Vladimir Putin's approval rating, however, isn't as high as it has been in the past. This won't bother him, though—at a lofty 87% in August, his popularity is a mere percentage point off of its all-time high. His rapid climb in popularity throughout the crisis in Ukraine suggests that this is another record that will soon be broken.