Monster Beverage Corp. yesterday reported earnings for the second quarter of 2014; net sales, at $687.2 million, are up 8.9% from last quarter. The global energy-drink industry is still going strong, according to a report from RBC Capital Markets this week, though growth is starting to slow a bit in the US, where Monster and Red Bull share 80% of the $9 billion market.
But the most interesting insight from RBC is that sales of Monster drinks in the US fluctuate with gasoline prices. This seems to fit the narrative given by Monster CEO Rodney Sacks a few months ago, when he distinguished his core customers from Red Bull's: According to Sacks, Red Bull is for "yuppie, well-to-do professional people," while Monster's consumer base is "blue collar," 18-34 year-old males. This is the demographic that has represented the average American convenience-store customer for decades. When fuel prices are lower, then, the convenience stores attached to gas stations sell more cans of Monster.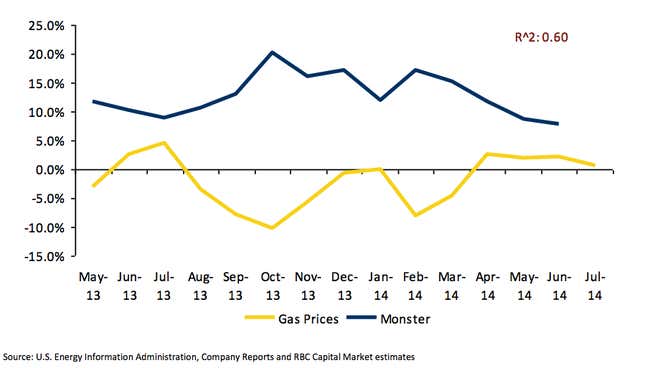 RBC analysts predict that Monster will soon overtake Red Bull as the number one energy-drink brand in the States. However, outside the US, Red Bull is ten times as popular as Monster.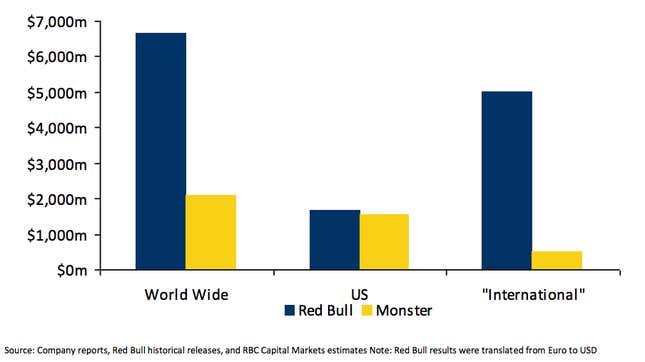 Red Bull does have a head start: It was introduced in the 1990s, while Monster debuted in the US in 2002 and didn't hit other markets until 2006. But unlike Red Bull, in most places Monster is gaining market share.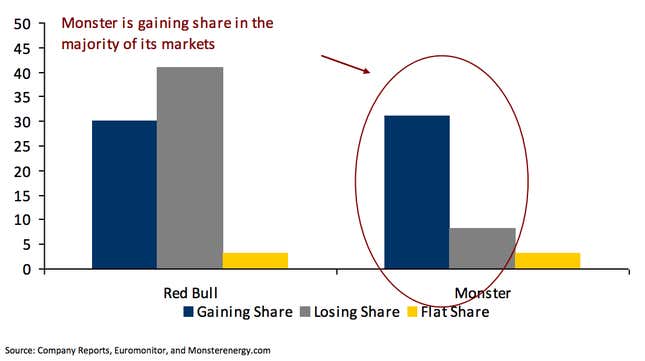 Monster's international expansion efforts are still in full swing; the company launched its 10th international production facility in February in Japan. The first quarter of 2014 was its first profitable one for its business outside North America.