An ancient sport with a big international following and English origins is undergoing a quiet resurgence in the US this summer.
Not soccer (or football, as it is known in other parts of the globe), although it fits that description too, and on a much bigger scale. No, we're talking about cricket, the bat and ball sport hugely popular in large parts of the British commonwealth that Americans have long found baffling.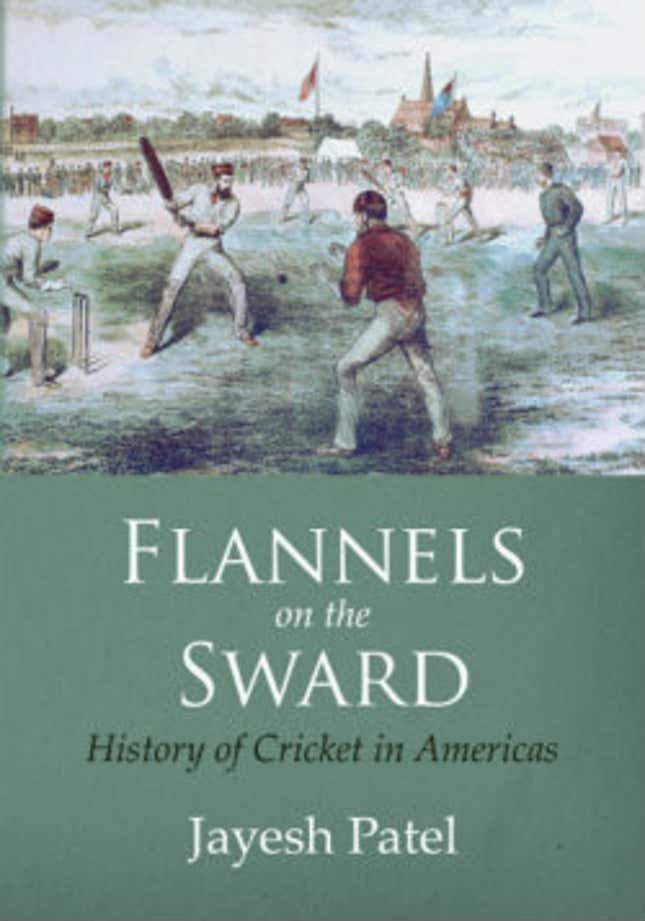 Cricket's profile is growing in the US thanks to the rising influence and size of the Indian (and to a lesser extent Caribbean) diaspora. It is an official high school sport in New York City. ESPN, which estimates that there are as many as 30 million cricket fans in the US,  actually aired an Indian Premier League match on live television earlier this year. It regularly streams matches online and the audiences are solid.
What most people don't know is that the sport has actually been played on American soil since Colonial days. Its fascinating history is outlined in Flannels on the Sward, History of Cricket in Americas, by first time author, Connecticut-based Jayesh Patel.
Patel says there are records of cricket being played in America's oldest cities—such as Philadelphia, Hartford, New York and Boston—as early as the 1700s. A predecessor sport, 'wicket,'  gained a particularly large following in Connecticut. Fittingly, Bristol, where ESPN is headquartered, was home to one of the strongest teams.
At its peak in the mid-1800s, cricket was being played in 22 states, by up to 1,000 clubs, Patel says. Philadelphia was one particular stronghold for the sport. The city was home to four prominent clubs, three of which – Merion, Germantown and Philadelphia— exist to this day, although they have morphed into country clubs.  The city still hosts an annual festival promoting the sport.
The Civil War changed everything. "Cricket was the game of choice before the civil war stunted its growth and provided baseball an opportunity to become popular in the camps and spread further than it ever saw possible," Patel tells Quartz via email. Baseball was promoted as a native and patriotic sport. It also had the advantage of taking only a couple of hours—a cricket game can take days—to complete.
Cricket actually stayed relatively strong in Philadelphia for a while longer. The Guardian's Martin Kettle recounted how a Philadelphia representative side actually beat Australia, one of cricket's strongest powers, as recently as 1912. The city also spawned one of the greatest players (albeit little known) in the history of the sport, Bart King, a devastatingly skilful swing bowler (baseball fans, think pitcher) whose greatness was "beyond question," the cricketing bible Wisden once said.
After the first World War the sport faded in the US. It was completely swamped by baseball, which would surge in popularity in the 1920s (some call that a golden age for the sport) and never really look back. But the rise of America's national pastime is another story entirely.