The founder of the Ferrero candy company first put hazelnuts and cocoa together during World War II, when chocolate was rationed and too expensive for most. Pietro Ferrero, so the company's story goes, figured out how to produce an affordable chocolate-y confection by blending just a little cocoa with a lot of hazelnuts. This is how Nutella, now a world-renown nutty spread, came to be.
The Ferrero Group is now the world's top buyer of hazelnuts, accounting for 25% of global supply. About 70% of the world's hazelnuts are grown in Turkey, where a severe frost earlier this year damaged the country's hazelnut crops. As a result, hazelnut prices are higher than they've been in ten years, reports the Financial Times.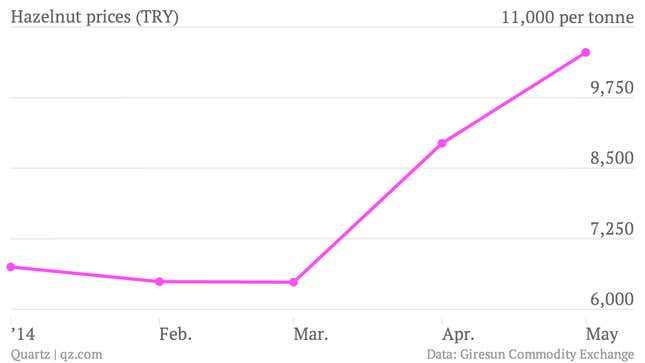 In February, hazelnut prices hovered around 6,500 Turkish lira (TRY) per tonne; since May, after the worst of the frost damage, the average price has risen to more than 10,500 TRY per tonne.
Turkey was expecting around 800,000 tonnes (727,000 US tons) of hazelnuts this harvest, but according to industry forecasts, production will fall to around 540,000 tonnes. Cocoa prices have been soaring, which puts pressure on the other part of the Nutella formula.