The Hershey Company—the top US candy maker by sales—this week announced it's passing rising raw materials costs on to consumers by immediately raising prices about eight percent across the board.
Hershey sells 40% of US dark chocolate, among other things. And you just need to look at the prices for cocoa futures to see how the cost of its ingredients is rising. They haven't been this high since 2011, the year that Hershey last raised its prices.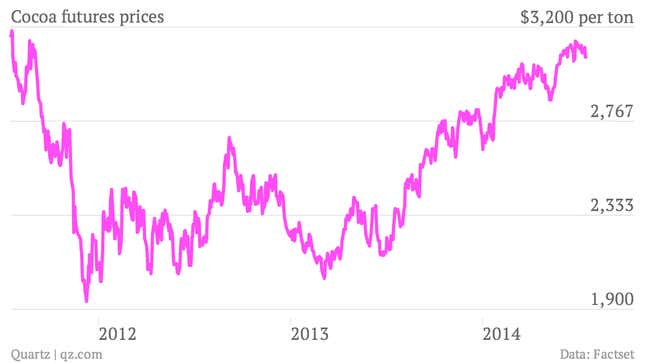 While US chocolate consumption is rising (paywall), it's the growth of the chocolate market in Asia that help explains the increased demand and prices for cocoa. Research firm Euromonitor forecasts the chocolate market in Asia will grow at nearly twice the global rate over the next four years. As is the case with milk, chocolate consumption in China and India isn't currently very high per capita, but it's growing quickly in terms of overall volume. According to London-based research firm Hardman & Co., there could be a one million-tonne global cocoa bean deficit by 2020.
Industry analysts expect Hershey's competitors to follow suit in raising their prices for chocolate. And there are broader pressures as well: Hershey cited higher milk and nut prices since the beginning of the year as other factors behind its latest increase.