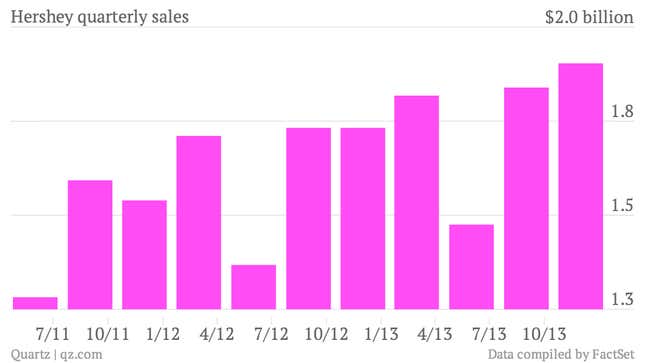 The numbers: Sweet. Fourth-quarter profits rose 24% as the Hershey Company posted earnings of $186 million. Revenues rose 12% to $1.96 billion, compared to the same three months of 2012.
The takeaway: MOAR chocolate. Consumption is rising and Hershey is hustling to meet demand. The company saw its sales grow in virtually every region, but particularly so in North America, its largest market, and China, its most promising. Hershey moved to acquire Shanghai Golden Monkey, one of China's largest candy and chocolate makers, last month. The company now controls over 10% of the Chinese chocolate market, the company said in a statement.
What's interesting: Dark chocolate is the hot corner of the chocolate world, posting a 7.7% annual growth rate. That's nearly double the growth rate of the segment as a whole, according to Candy Industry (paywall). Hershey officials claim to have about 40% of US dark chocolate sales (see "video text"). On the downside, the popularity of dark chocolate is partly to blame for rising cocoa prices, as the darker stuff takes more of the raw material to make.