Cocoa prices are climbing fast. Cocoa futures jumped to $2,868 per ton ($3,161 per tonne) on Jan. 27, the highest price since mid-September of 2011.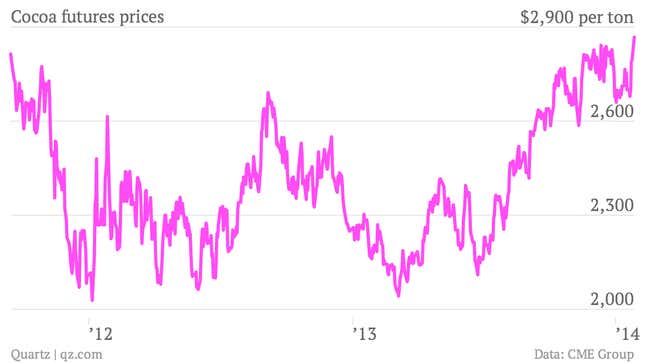 Cocoa prices are soaring for several reasons, but one in particular is rising demand for darker chocolate, which takes more cocoa to make. The average chocolate bar consists of roughly 10% cocoa. Darker varieties can contain 70% or more. Dark chocolate now accounts for some 20% of the US chocolate market, and 30% of the Swiss chocolate market, according to Euromonitor (paywall).
A growing taste for chocolate in China is driving up cocoa prices, too. China's chocolate sales have more than doubled over the past decade, a trend that's projected to continue.
And indeed the whole world is eating more chocolate. Global chocolate sales are expected to increase by over 6% in 2014, and reach a record $117 billion, according to Euromonitor. Global cocoa production is expected to trail demand through at least 2018, which will put upward pressure on chocolate prices and mark the longest cocoa supply shortfall in over 50 years, according to Bloomberg.
Cocoa prices climbed almost 24% in 2013 alone. All the more reason to savor every bittersweet bite.