ProPublica scribe Jesse Eisinger has offered up a lengthy piece on the state of the SEC, a top US financial regulator, under the leadership of current Chair Mary Jo White. The upshot: White's SEC has irritated a range of political players and fellow regulatory entities.
Over the last several weeks, I've been talking to fellow regulators, administration officials, current and former [SEC] staff members, financial reform advocates and people on Capitol Hill whose opinions of Ms. White's performance range from dissatisfied to infuriated.
Among the complaints are that the SEC has undermined efforts to regulate large asset managers, dragged its feet on overseeing high-frequency trading, and pushed back on attempts to toughen accounting rules. It's not too difficult to find the takeaway from the piece. "The [SEC] leans toward the industry," Eisinger wrote.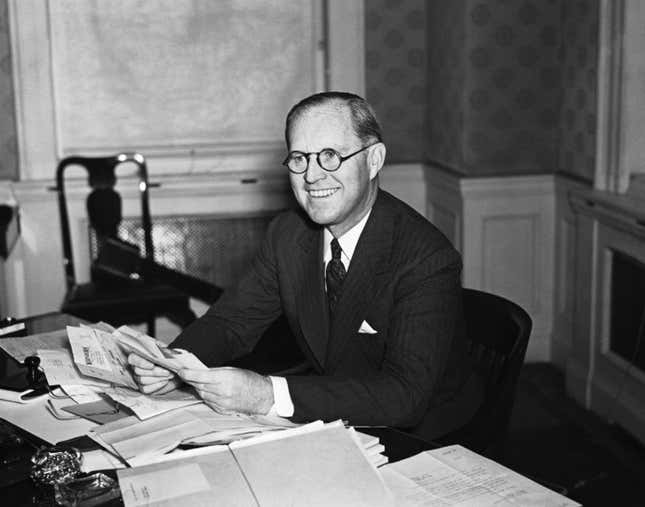 Finding a person with enough experience to regulate the financial markets has been a problem for the SEC since it was created, in the midst of the Great Depression. Critics were initially outraged by President Franklin Roosevelt's selection of Joseph Kennedy—an avid practitioner of some of the worst stock market abuses during the booming 1920s bull market—as the first chairman of the agency in 1934. (Set a thief to catch a thief, is an apocryphal quote often attributed to Roosevelt on the subject.)
White is no Kennedy. But like him she is a creature of Wall Street. Before taking on the position at the SEC she built up a lucrative law practice at Debevoise & Plimpton defending Wall Street honchos. They included former Bank of America CEO Ken Lewis, who was sued by the New York Attorney General in 2010. White also has defended JPMorgan Chase in cases related to the 2008 financial crisis.
Does that disqualify her from being an effective regulator on Wall Street? No. (Nor does it make her unique, predecessors such as Harvey Pitt and Arthur Levitt faced similar criticism because of their history on Wall Street.) But it does place White's regulatory efforts under special scrutiny. Critics will always have plenty of reason to suggest that she's soft on the industry.
Back in 1934—after the passage of the Securities Exchange Act of that year—Joseph Kennedy found a way to disabuse critics of such notions. He became an incredibly effective regulator. White should take the same approach.