Following in the footsteps of Starbucks and Maxwell House, single-serve coffee giant Keurig Green Mountain is set to raise prices by up to 9% on all of its products, including its hugely popular K-Cup portion packs. The company had been comparatively slow to raise prices, possibly because the margins on K-cups are so high that they could absorb coffee price increases for a time.
The gross margin on K-Cups can approach 50% in some cases, huge for any industry, let alone food retail.
The increase will go into effect November 3rd. Behind the jump is a massive increase in the price of green coffee, which is up more than 50% over the past year, after a drought and disastrous harvest in Brazil. The prices have soared, stayed high: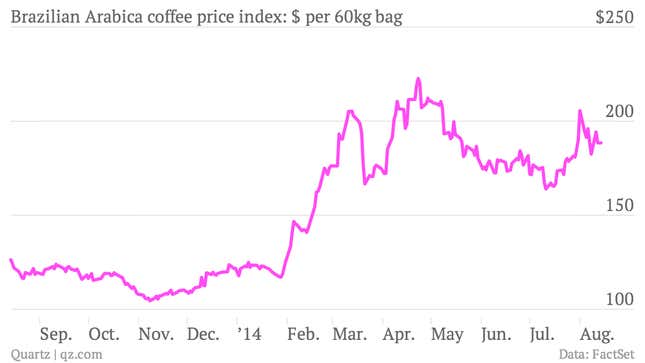 The price increase comes ahead of the company's rollout of its new Keurig 2.0 machine, which will come with the ability to detect knockoff unlicensed pods, and to brew carafes of coffee instead of just a cup.
In its most recent earnings call, the company said it had locked in its coffee supply through 2015. But the pressure to make up those coffee costs, as well as increases in the prices of packaging materials, energy, and transportation—and to follow the lead of competitors—was apparently too much.