Facebook's photo-messaging app Slingshot, its latest attempt to catch some of Snapchat's allure, hasn't taken off. While Snapchat usually ranks in the top 10 most downloaded iPhone apps, Slingshot dropped out of the top 1,000 only a few weeks after its mid-June launch. (It's currently ranked no. 424 in US photo apps, according to App Annie, a company that tracks app stores.)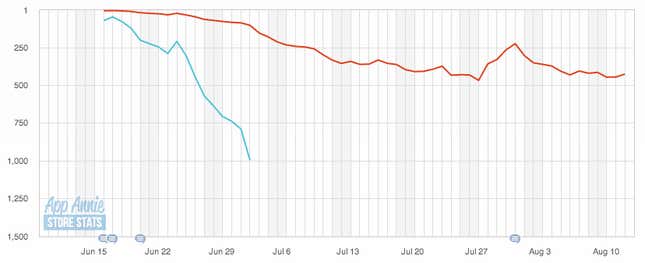 But there's still plenty for Facebook to learn from Slingshot—new forms of sharing, for example. Designing popular social tools—especially on mobile—involves a bit of alchemy. And discovering an engaging interaction—such as Instagram's double-tap to like a photo, Tinder's swiping technique, or the "Pull to refresh" action first used in Tweetie, a Twitter app—can be gold.
"We wanted to get the app out there, watch people use it, and then use their feedback to build something people really love," says Joey Flinn, the app's designer.
For instance, Slingshot's bubbly sound-effects—every action has a sound associated with it—have gotten a positive response from users. And Slingshot's "reaction" shots are an interesting form of social interaction: When someone "slings" you a photo, you can tap the screen to take a photo or video of yourself reacting to it. In its app update, the Slingshot team focused on allowing chains of reactions, meaning that if my reaction shot to your video was sufficiently funny or interesting, you could respond with your own.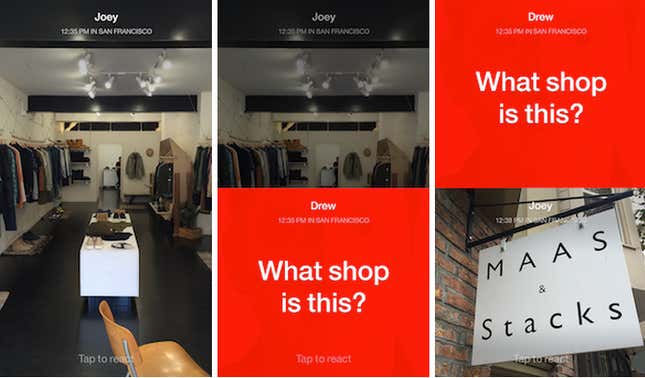 So while Slingshot itself looks to be a disappointment, some of its features could eventually find their way into Facebook's flagship apps—which could make it a worthwhile investment.
Facebook is fortunate, of course, that it doesn't need each of its apps to become mainstream hits or immediately generate revenue. The company already has more than 650 million people using its mobile products every day, and its mobile ad business is working. It would be great, of course, if each Facebook app was successful. But the company is able to chalk up projects like Slingshot—made by a small team of engineers and designers called Creative Labs—as experiments, giving their employees expertise in new forms of sharing and interaction.
"Being part of Creative Labs, each of these products has a lot of room to run wild," said Rocky Smith, Slingshot's engineering lead.
In Slingshot's case, that hasn't meant mainstream success—not yet, at least. Nor has another Creative Labs app, Paper, taken off. But parts of those apps' makeup may still find second lives in Facebook's other products.