The modern smartphone is seven years old and yet, when it comes to designing mobile applications, we are still barely scratching the surface. Today we'll see how harnessing technology already embedded in a phone can unleash great potential. 
A mobile news app has simple goals: Capture and retain reader attention, and repeat the process, several times a day. Pretty straightforward. But not that simple in the real world. For a news provider, the smartphone screen is the the most challenging environment ever seen. There, chances are that a legacy media or a pure-player will find itself in direct competition, not only with the usual players in its field, but also with Facebook, Snapchat, Instagram, and scores of gaming applications. Distraction is just one icon away; any weakness in functional or graphic design can be lethal.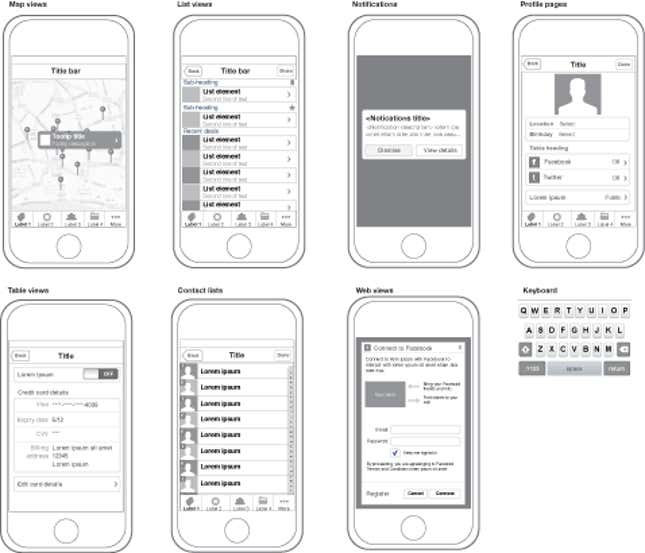 Hence the questions for publishers: What type of news should they put on their mobile apps, what formats, what about images and video, sharing, curation, connections to other apps? Should they be selective or stuff as much as they can in their app? Or should they build easily digestible news blocks à la Circa? Or put more emphasis on a nice, small package of news items, as Yahoo News Digest brilliantly does? Or—the last trend–design an app for fast reading, like The New York Times NYT Now? (I must say, NYT Now, is my favorite news application—and I tested many; it delivers exactly what its promises: a constantly updated news stream, sending back to NYT's stories, and well curated picks from the web. At the same time, Les Echos, the business media I work for, released LesEchosLive, an app also built around a single vertical "rail" of news with compact stories that expand and collapse as needed—readers seems to like it a lot…)
But…good as they are, these forays into mobile-news consumption are not enough. The  mobile tsunami has just begun to unfurl. Soon, it might flood a solid half, then two-thirds of all news pageviews—and we can expect further acceleration after the release of the next batch of iPhones: their larger screens will provide more attractive reading.
If mobile is to become the dominant vector for news, retaining readers will be much more challenging than it is on a PC or tablet (though the latter tends to engage readers 10x or sometimes 20x more). A news app needs to be steered with precision. Today's digital-marketing tools allow publishers to select multiple parameters monitoring the use of an application: They can measure how long the app is used, when, for how long, why and where people tend to drop it, what kind of news they like, if they hit a paywall and give up, and why they do so, etc. Similarly, when an app remains unopened for too long, smart tools can pinpoint the user and remind her of the product's benefits. These tools are as good as the people who (a) set the parameters, (b) monitor them on a daily basis, and (c) take appropriate action such as launching a broadside of super-targeted emails. But these are incremental measures, they don't breed exponential growth in viewership (and revenue).
Why not envision a few more steps forward and take advantage of technologies now embedded in every smartphone? A mobile phone is filled with features that, well directed, can significantly improve user experience and provide reams of usage data.
Imagine a news feed natively produced in different formats: long, short, capsules of text, with stills and videos in different sizes and lengths. Every five minutes or so, the feed is updated.
After awhile, your smartphone has recorded your usage patterns in great detail. It knows when you read the news and, more importantly, under what conditions. Consider Google Now, the search engine's intelligent personal assistant: It knows when you are at work or at home and, at the appropriate moment, it will estimate your transit time and suggest an itinerary based on your commute patterns; or take Google Location History, a spectacular—and a bit creepy—service for smartphones (also tablets and laptops) that visualizes your whereabouts. Both Google services generate data sets that can be used to tailor your news consumption. Not only does your phone detect when you are on the move, but it can anticipate your motions.
Based on these data sets, it becomes possible to predict your most probable level of attention at certain moments of the day and to take in account network conditions. Therefore, a predictive algorithm can decide what type of news format you'll be up for at 7:30am when you're commuting (quickly jumping from one cell tower to another with erratic bandwidth) and switch for faster reads than at 8:00pm, when you're supposed to be home, or staying in a quiet place equipped with a decent Wi-Fi, and receptive to richer formats.
By anticipating your moves, your phone can quickly download heavy media such as video while networks conditions are fine and saving meager bandwidth for essential updates. In addition, the accelerometer and internal gyroscope can tell a lot about reading conditions: standing-up in a crowded subway or waiting for your meeting to start.
By poring over such data, analytics specialists can understand what is read, watch and heard, at what time of the day and in which environment. Do users favor snippets when commuting? What's the maximum word-length for a story to be read in the subway without being dropped, and what length is more likely to induce future reading? What's the optimal duration for a video? What kind of news package fits the needs and attention for someone on the move? What sort of move by the way? Motion and vibration for a car are completely different than the ones from the Bay Area transit system or London's Tube. Accelerometers and motion sensors can tell that for sure—and help to decide if it's better to serve the smartphone owner with a clever podcast while she is likely to be stuck in her car for the next 50 minutes on Highway 101 heading to San Jose (as revealed by her trajectories and GPS patterns of the last few months) or favor text and preloaded videos for BART commuters between Oakland and San Francisco.
This approach, based on a large spectrum of patterns analytics, can enormously increase readers' appetite for news. This is yet another reason for media companies to lean more and more on the technology side. Until now, with very few exceptions, legacy media have been slow to move into that direction. As someone who loves good journalism and smart news formats, the last thing I want to see is newcomers providing cheap editorial succeed at capturing people's attention only because they'll have been first to harness these technologies. We've had that experience on the web, let's not make the same mistake twice.
You can read more of Monday Note's coverage of technology and media here.