The son of Chinese kung fu star Jackie Chan has been arrested for drug use—Jaycee Chan, 32, was detained by police in Beijing last night after testing positive for using marijuana, and could face as much as three years in prison. The arrest of Jaycee Chan, also an actor, appears to be part of a larger anti-drug campaign that is specifically targeting China's entertainment industry, a sign that authorities may be trying to tighten their hold over one of the country's fastest growing industries.
It's a somewhat surprising move given the elder Chan's connections in China, where he is a member of the People's Political Consultative Conference, an advisory body, and has long been a vocal spokesman for the Chinese political system as well as investor in mainland property and film. (Ironically, Chan was also an ambassador for China's National Narcotics Control Commission in 2009.)
While China has cornered the market for patents on cannabis-related products, and the use of marijuana in Chinese medicine dates back thousands of years, possession of marijuana is illegal. More than 100 grams of marijuana were recovered from the younger Chan's home, police said.
Over the past month, uniformed and plainclothes police have been launching surprise raids on bars in Beijing, forcing patrons to take urine tests, and hauling them away to local police stations if they fail. Chinese president Xi Jinping pledged this year to crack down on drug-related crimes and the government has launched a "people's war" against narcotics. Illegal drug use has been increasing in China since the 1980s. Methamphetamines, ecstasy, and ketamine, known as k-fen, are among the most used drugs and easily bought on online forums and messaging apps like Tencent's WeChat.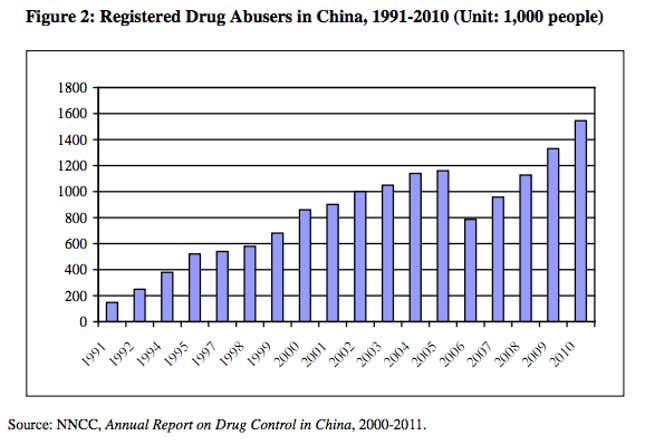 Conveniently, targeting drug abuse is also a way to remind those in China's film, music and television industry who is boss. Over the past few years, authorities have been increasing restrictions on television stations, and video streaming sites. Censors have kept a firm hold over what's allowed to be shown in domestic movie-making, even though critics say that may be stifling the growth of a Chinese film industry. Among those who have been detained on drug charges are reality show star Li Daimo, director Zhang Yuan, whose film Mama, about a mother raising a handicapped child without help from the state or her family was banned for two years before being released in China this year, writer and director Ning Caishen and actor Gao Hu.
So far, it appears the entertainment industry is acquiescing. Last week, a group of over 40 artist management agencies signed an agreement with police in Beijing promising that they would not hire those who had used drugs.