Apple's share price has pierced the $100 threshold today, and the hedge fund manager Carl Icahn, who built a position in the iconic device maker about a year ago, is already taking a victory lap.
Remember, Apple went through a 7-for-1 stock split in June (which doesn't actually do much besides make it easier for small investors to buy its shares, and for the company to be included in the Dow Jones Industrial Average). On an unadjusted basis, the stock hit a new high, surpassing a previous record of above $700 (in unadjusted terms), which it touched in September 2012.
It's also worth noting that Apple has been buying back its own stock (in part to placate people like Icahn, who complained that the company was hoarding its massive cash pile). That reduces its share count and artificially increases its share value.
But the latest stock price surge is probably more about the company's fundamentals, not financial engineering.  Investors are anticipating the iPhone 6, which was scheduled to be released next month. As Morgan Stanley pointed out in a research note this morning, Apple's share price tends to outperform in years when it releases new versions of the iPhone. (The exceptions being the iPhone 5 and iPhone 3G, which the investment bank puts down to one-off factors.)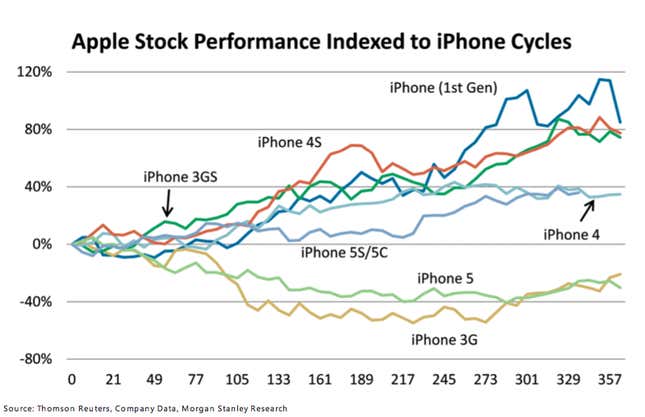 RBC Capital Markets is tipping a blockbuster December quarter, in terms of both revenue and shipments, due to the iPhone 6.