In its latest mobile app report, comScore tracks the 25 most popular apps in the US. This is an interesting slice of the App Store, as it highlights active usage, not just one-time downloads or recent popularity.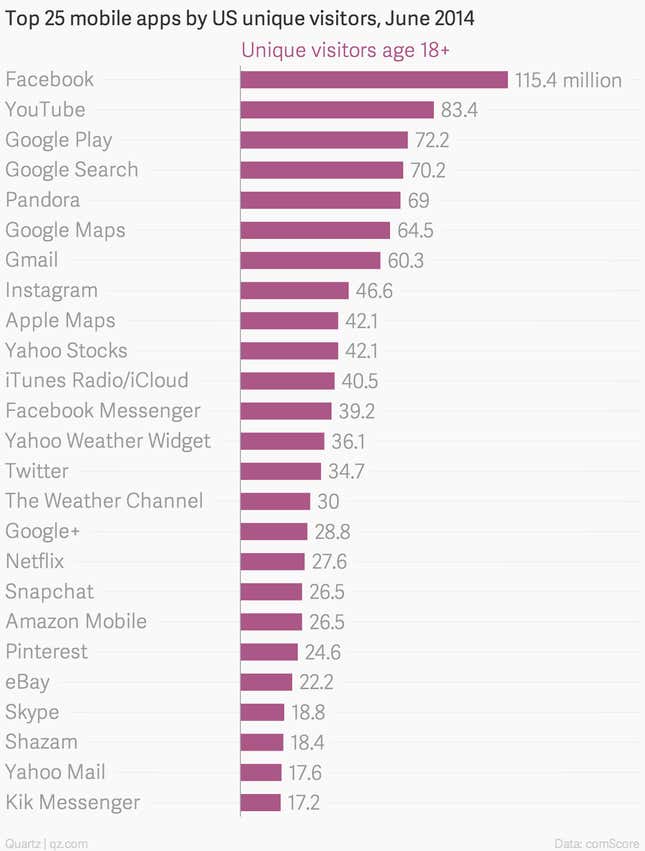 Some observations:
Facebook is by far the top app, with 115.4 million unique visitors in June. With 160 million total US app users, that's 72% penetration—pretty impressive. (For context, Facebook said it had 1.1 billion mobile users worldwide last quarter.)
Google is the top mobile app publisher. Its apps represent nos. 2, 3, 4, 6, 7, and 16. Facebook's Instagram and Messenger apps are strong as well, though WhatsApp doesn't make the list. Microsoft, historically the world's largest software company, is only represented by Skype at no. 22. Yahoo is doing ok.
There are no games in the top 25. This is not a mistake: comScore rep Andrew Lipsman says many games have large audiences, but they're closer to 10 million unique visitors—probably because games tend to spike in popularity and then decline. Facebook and Google, meanwhile, seem here to stay.
Netflix is the top app that requires a subscription. Its 28 million unique visitors represent more than 75% of its US streaming subscriber base, including trial members.
Pandora is huge. Spotify is missing.