As technical indicators go, the Hindenburg Omen, a smattering of moving averages and market breadth indicators that purported to predict catastrophic market sell-offs, was an abject failure. If you had gone to cash, bought gold and headed out to your shack in the salt flats to wait out Armageddon in August 2010—when the Hindenburg Omen first gathered attention after it supposedly signaled a looming crash—you would have missed an incredible rally. The S&P 500 is up roughly 85% since then.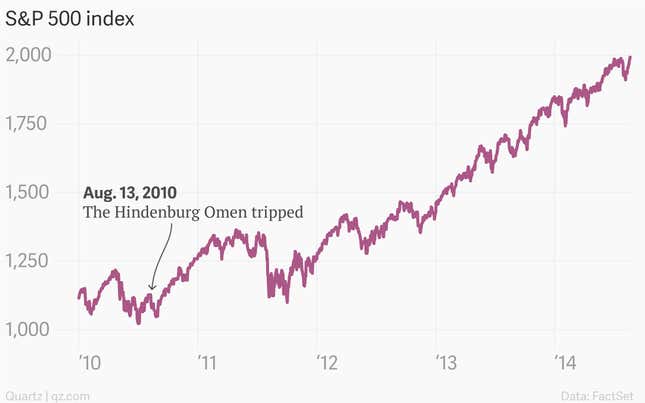 But what the Hindenburg Omen's creator, a former physics teacher and mathematician named Jim Miekka, lacked in terms of market forecasting ability—he said the omen was followed by a crash 25% of the time—he more than made up for in marketing savvy.
Mr. Miekka, who was struck by a vehicle and killed earlier this week, hadn't ever worked on Wall Street or studied finance. Although blinded in an accident in the 1980s, he was an avid target shooter who had invented a system that allowed him to shoot by sound. His selection of the ominous Hindenburg Omen moniker played perfectly into the psychology of the segment of the stock market investing public that is permanently awaiting the next big crash. (Miekka told the Wall Street Journal that he landed on Hindenburg only as a second choice, after finding out that Titanic was taken.)
But in markets that increasingly driven by algorithms and computers, it's nice to know that characters like Mr. Miekka can still have an impact.