As Ukrainian forces lose ground to resurgent pro-Russian rebels in southeastern Ukraine, the evidence is mounting that the separatists' ranks are being bolstered by regular Russian troops. Ukraine's president, Petro Poroshenko, said as much today when he cancelled a foreign trip and called crisis meetings in Kiev.
The opening of a new front along the road that links Russia with the annexed territory of Crimea marks a dangerous new phase in Ukraine's struggle to regain control of its restive eastern regions.
By now the financial markets are used to seeing spasms of violence in Ukraine, interspersed with the occasional glimmer of hope. But the big moves in Russian and Ukrainian markets today suggests that the latest spike in tensions is seen as a meaningful escalation in the conflict.
Ukraine's economy is in free-fall, almost totally reliant on aid from the IMF and other lenders. The country's currency continues to collapse, setting a series of successive all-time lows against the dollar in recent days.
The government stemmed the rout today by releasing some of the central bank's reserves, but it can't spare much more to prop up the hryvnia if conditions get worse. The thinly-traded UX Index of locally-traded Ukrainian stocks dropped by more than 6% today; a basket of Ukrainian companies listed in Warsaw—which isn't subject to the distortions of Ukraine's volatile currency—flirted with all-time lows after losing 3.5% of its value.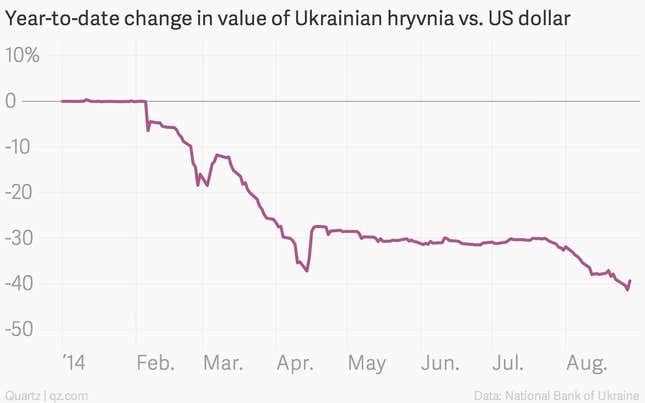 Things aren't much better in Russia. The ruble is plumbing new depths after losing 1.6% against the dollar today.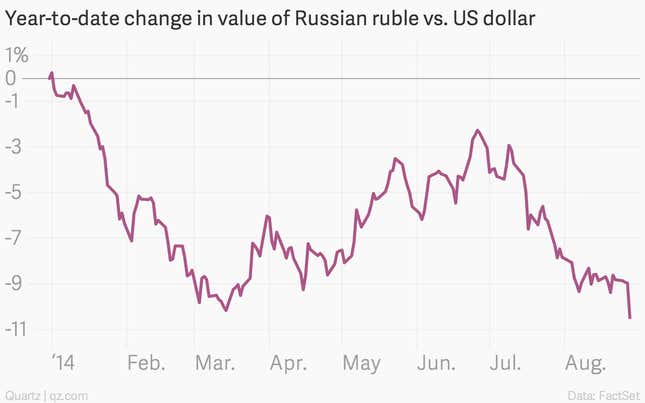 Russian stocks also took a pounding, with fears of a new round of Western sanctions (and Russian counter-sanctions) threatening to tip the economy into recession. The ruble-denominated Micex and dollar-based RTS indexes both had bad days, giving up recent gains to close in the red. The RTS's 3.5% drop today was the fourth-largest daily decline so far this year.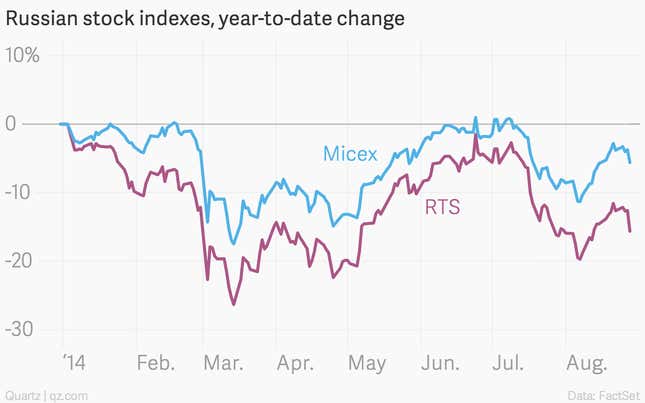 At this point, only the hardiest investors with an appetite for risk are left dabbling in Ukrainian and Russian assets. When even these buyers lose faith, it spells trouble for both sides involved current conflict.
And even Vladimir Putin's gravity-defying approval ratings have taken a knock, albeit a modest one—the Russian president's rating now stands at 84%, according to a survey released yesterday (link in Russian), down from 87% at the start of the month.