Each month we spotlight the so-called "jobs differential," an indicator that's buried in the Conference Board's monthly update on US consumer confidence. The jobs differential is basically the difference between the number of people who said jobs were "hard to get" and those who said jobs were "plentiful" in the the non-profit research group's monthly consumer sentiment survey.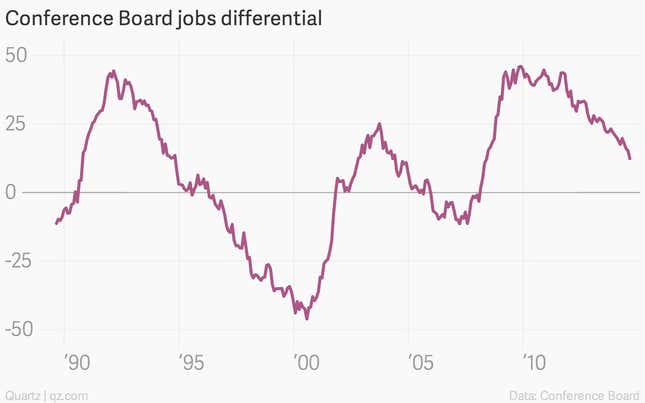 The jobs differential is considered a good leading indicator of the job market's health. (The official US jobs report is due a week from tomorrow, on Sept. 5. Economists expect 213,000 jobs were created in August, with the unemployment rate holdings steady at 6.1%.)
And in recent months, it has been falling fast—a good sign. In August, it fell to 12.4, a new post crisis low, from 15.3 in July. This is an indication that job creation has been so robust that regular Americans are starting to notice. Essentially, Americans now feel jobs are about as hard to get as they were during early 2004, when the US economy was really starting to gain traction after the recession of the early 2000s.