The snow-capped southern peak of Lapland's Kebnekaise, in the Scandinavian Mountains, reaches 2,097.5 meters (6,881.6 feet) above sea level, making it the highest point in Sweden. But not for long.
The 40-meter-thick glacier on top of it has been shrinking, on average, a meter a year for the past two decades. In 1901, when the southern peak was first measured, its elevation was 2,121 meters.
By next year, scientists at the University of Stockholm predict, Kebnekaise's northern peak—which is solid rock—will likely become the tallest spot in the country.
The culprit? Climate change. A recent research paper (pdf) that tracked 47 years of air-temperature records in Tarfala Valley, below the Kebnekaise glacier, found a significant warming trend. The period from 1995 to 2011 was 1.08°C warmer than the period from 1965 to 1994. Eight of the ten warmest years covered by the study occurred since 1999.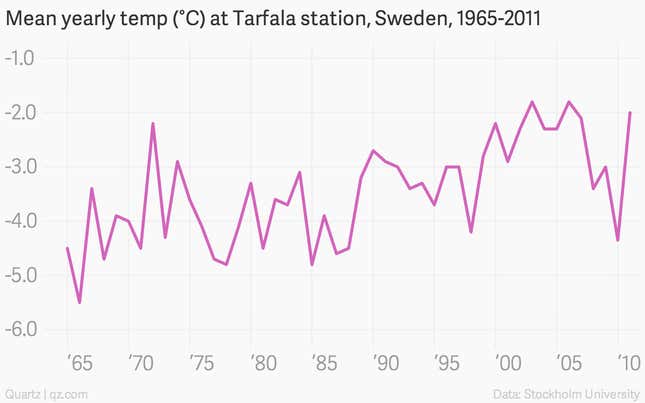 Gunhild Rosqvist, a professor at Stockholm University and the director of the Tarfala Research Center, says the shrinking of the mountain will be a blow to the tourist industry. Climbers in search of Sweden's superlative peak won't easily be able to ascend the northern point, as it's largely inaccessible. "It's going to be a real challenge for the people working in tourism up there to continue attracting people," she told the Local. "That mountain climb is a crucial earner for the region. They're going to need a major rethinking here, and I hope they come up with something good."
The changes are already having an impact on the mountain's habitat. "It's been unusually warm up there this summer, the reindeer calves are dying because their mothers aren't getting enough water to make milk, and the herders are struggling," Rosqvist said.  "No one can remember it ever being this warm."