The bonhomie between Narendra Modi and Japanese prime minister Shinzo Abe has served to heighten expectations about bilateral ties. The "bromance" between the two dates back to 2012, when Modi first visited Japan as the chief minister of Gujarat.
This weekend, Modi made his maiden trip to Japan as the prime minister of India, and he received a treatment usually reserved for the most esteemed guests. Special tea ceremonies were hosted for Modi, and Abe flew all the way to Kyoto—Modi's first stop—to greet the Indian PM with a big bear hug. The Japanese media described this as "an extraordinary gesture of welcome."
Businessmen in both countries will read cues from this warmth between two of Asia's major leaders.
India is the only place where you can find democracy, demography and demand, Modi told more than 2,000 Japanese businessmen and investors on Tuesday. Already, some Japanese companies have declared their plans to set up shop in Asia's third largest economy.
Companies such as Sony, Panasonic, Suzuki, Toyota and Mitsubishi have long been household names in India. Here are three new Japanese brands that have announced plans for an India launch:
Toto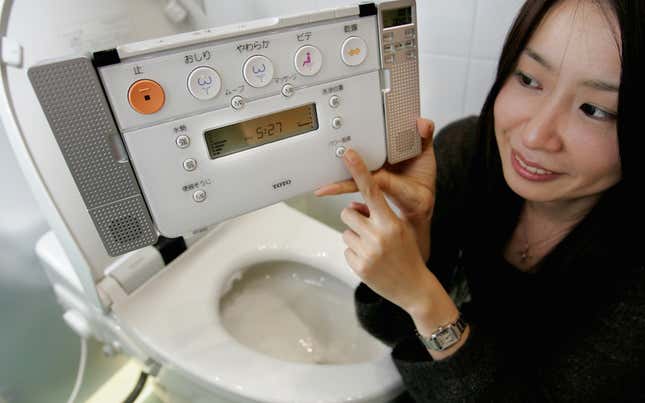 Founded in 1917, Toto is a major global maker of plumbing products. The company is known for its high-tech washlets. Toto's toilets have features such as "warm water spray for intimate cleansing, heated seat, dryer and odour-absorbing deodoriser."  Some of their washlets are also capable of cleaning themselves and will render "toilet brushes obsolete."
Last month, the Japanese toilet maker opened a manufacturing plant in Modi's home state. The 180,000 sq. metre plant in Halol, Gujarat will produce 500,000 toilet bowls every year.
Toto is pricing two toilets at Rs10,000 ($165) and Rs15,000 each and won't be promoting their fancy toilets in India yet. "In India the main market is middle-class customers, so those kinds of products (are key)…not the premium products,"  the group's president Madoka Kitamura told Financial Times.
More than half of Indians don't have access to a toilet.
Muji
The retailer of  clothing, stationery, kitchen appliances and even automobiles, will be the first Japanese retailer to enter India. Muji plans to open its first store in Delhi or Mumbai by 2015 or 2016, depending on government approval. The company sells items like USB desk fans, towels that can work as a bathmat or a duster, and socks with a perfect right angle.
Muji will partner with a local retailer and have majority or 51% stake in the partnership. The domestic partner will handle personnel and distribution while Muji will be responsible for the product lineup and store design. India's laws allow single-brand retailers such as Ikea or Muji to fully own their stores in the country, subject to norms that require them to source 30% of their inputs locally.
The minimalist Muji style might not be a natural fit for India. The company does not even put its brand on its products. "Muji" is short for "Mujirushi Ryōhin" or "no brand quality goods."
Uniqlo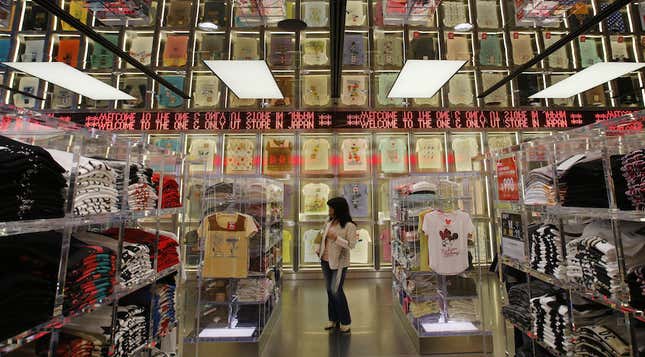 Japan's largest clothing store chain, Uniqlo (pronounced YOU-nee-klo), plans to both source from India and open stores in the country. Modi met Tadashi Yanai, the founder and owner of Uniqlo who is often ranked among Japan's richest men, in June to discuss the brand's investment plans in India. It was modi's first high-profile international meeting since becoming the prime minister in May.
Modi is expected to again meet Yanai during his ongoing Japan trip.