It's certainly no secret that the History Channel (now called just History) moved away from historical programming a long time ago. Like nearly every other American cable channel, it succumbed to "channel drift"—due, in part, to the reality-TV boom of the early 2000s—and lost its identity as cable's sanctuary for history buffs. Today, it's perhaps known best as a sanctuary for aficionados of alligator-hunting and ice-road trucking.
But the channel has tried to honor its original mission in some way while still appealing to broad audiences. The last vestiges of history on History appear in the channel's slate of popular miniseries. They aren't particularly historically accurate, but they are at least about historical events. And people like them.
The first installment of the two-night event Houdini drew 3.7 million viewers on Sunday, making it the most-watched cable miniseries premiere of the year. And that pales in comparison with the premieres for some of History's other miniseries: Hatfields & McCoys, which drew 13.9 million viewers, was one of the most-watched cable broadcasts ever, miniseries or otherwise.
In terms of historical accuracy, History's miniseries fall somewhere between a Ken Burns documentary and Ancient Aliens. Hatfields & McCoys—which got some facts right, and some wrong—was still both wildly entertaining and critically successful. It was nominated for 16 Emmys and won five, including acting wins for Kevin Costner and Tom Berenger. It's not a stretch to say that Hatfields & McCoys might be the most successful basic cable miniseries of all time.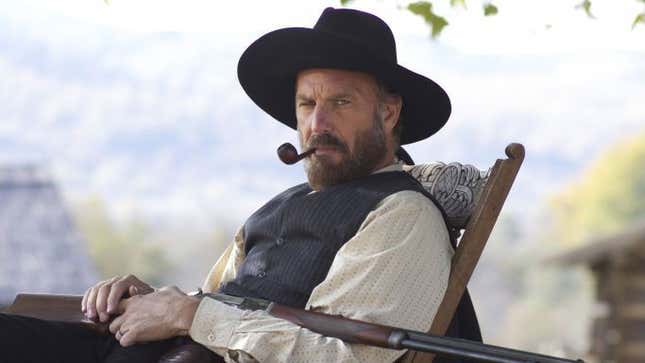 History's other miniseries have all been similarly effective. Bonnie & Clyde and The Bible were both widely viewed and nominated for Emmys. The Kennedys, which aired on ReelzChannel in the US (and on History in Canada) due to outside pressure from certain powerful people, was also a hit despite the controversy (or maybe, because of it).
Even the full series Vikings—with all its melodrama—is roughly, vaguely, kinda-sorta about a fascinating piece of our world's history. (We also don't really know much about vikings, so perhaps it's dead-on.)
History has no plans to stop tapping the miniseries well. Miniseries about the Texas Revolution, the Revolutionary War (which is a hot topic on TV nowadays, with Turn on AMC and Sleepy Hollow on FOX), and the Jamestown settlement are all in the works.
(This story will be updated if History responds to a request for comment.)