Microsoft's Bing predictions team had a pretty great World Cup, perfectly predicting the knockout round of the soccer tournament—unless you think the third-place match matters, which it doesn't. Now people who use the search engine, or the company's mobile assistant, Cortana, can get predictions on every National Football League game this season.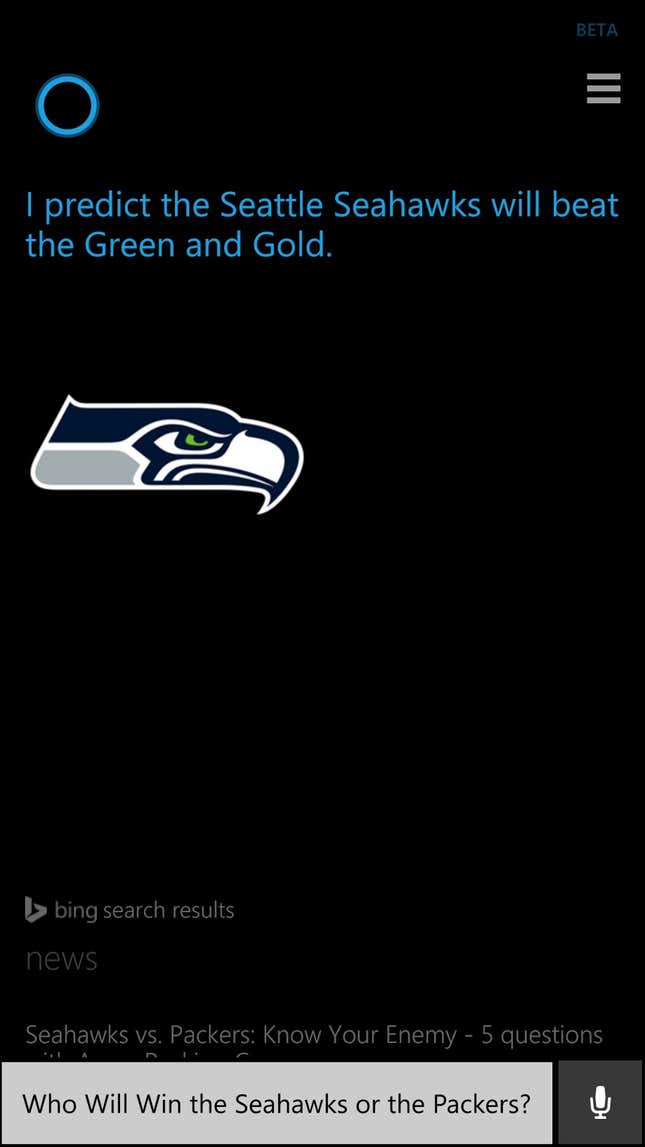 As of this afternoon, risking possible accusations of hometown bias, Bing's mobile search engine predicts that there's a 74.2% chance that the defending champion Seattle Seahawks will beat the Green Bay Packers in the first game of the regular season. Cortana just shows the team expected to come out on top.
The prediction engine seems to be based in part on the traditional model, which looks at margins of victory, home advantage, playing surface, outcomes from previous seasons weather, and many other stats. But it adds a twist, described on a company blog by Walter Sun, an engineer who originated the prediction program:
In addition to this prior model, we identify fans on Web and Social sites and track their sentiment to understand the aggregate wisdom of this expressive crowd.  This introduces data which statistics alone cannot capture, providing real-time adjustments which surprisingly can capture injury news and other substantive factors in win probabilities.
A full 256-game NFL season will be tough to predict accurately. While the performance in the World Cup's knockout rounds was impressive, the model was less successful during the more frenetic and much larger group stage of the tournament.
This is part of an ongoing effort to make search more informative, useful, and interactive for users. Don't expect this to be the last of the company's experiments. Craig Beilinson, Microsoft's director of consumer communications, told Quartz earlier this year that other avenues for prediction include award shows, this November's US midterm elections, and movie box-office totals.