The World Cup ends this weekend, and watching could be bad for your health, maybe more so if you're supporting Germany this Sunday. This chart shows heart attacks among Germans during their team's games in the 2006 World Cup, which was held in Germany: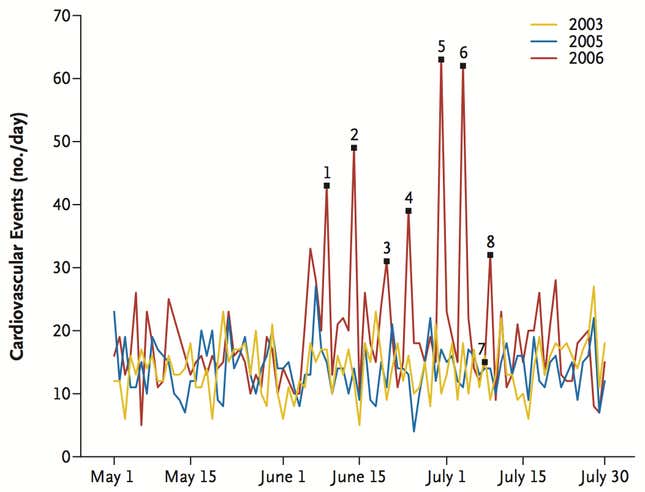 The spikes at 5 and 6 correspond, respectively, to:
Germany beating Argentina, 1-1, in penalties in the quarter-final
Germany losing to Italy, 2-0, in the semi-final
But note the dramatic drop in heart attacks at 7, the third-place playoff that saw Germany beat Portugal 3-1. It was clearly less exciting than the group stages, featuring such memorable matches as Germany vs. Poland (1-0, in case you've forgotten). The data, published in the New England Journal of Medicine in 2008, suggests that the battle for third place is the least riveting match of the tournament—even if your team is in it.
The 2014 vintage of the second-best-loser competition today sees hosts Brazil face the Netherlands in Brasilia after their soul-destroying 7-1 thrashing by Germany in the semi-final. The Dutch boss Louis Van Gaal has made no disdain of his dislike for the fixture. "This match should never be played. I've been saying that for 10 years; it's unfair," he said. "There is only one award that counts and that is becoming world champions."
Judging by the lack of heart attacks during the 2006 World Cup, soccer fans don't care for the match either. German fans, on the other hand, may want to try to stay calm during the final tomorrow against Argentina.