Consolidation has been sweeping through the telecommunications sector for a couple of years now, both globally and inside the US.
Last year, Japan's Softbank bought Sprint, and Verizon bought out its wireless joint venture partner, Vodafone. This year, AT&T unveiled plans to buy satellite pay-TV company DirecTV, while various parties have been circling T-Mobile US, which is majority owned by Germany's Deutsche Telekom. (Yes, telecommunications is an incestuous, industry).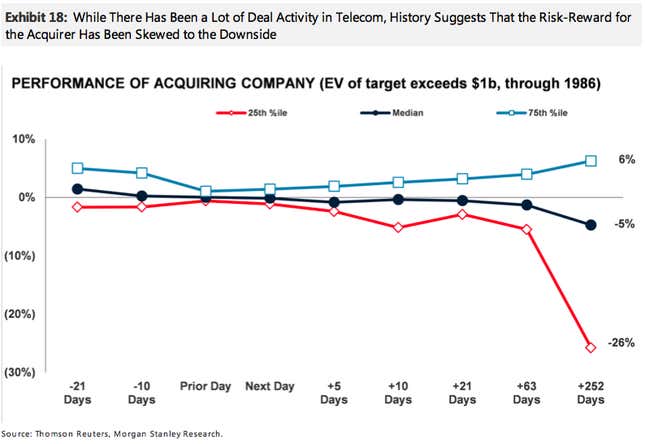 The cable industry is also undergoing consolidation, headlined by the contentious Comcast-Time Warner Cable deal.
Morgan Stanley has crunched the numbers on telecoms industry acquisitions worth more than $1 billion since 1986 and found that the top quartile of deals typically deliver a shareholder return of just 6%. The bottom quartile typically lose 26%.
In other words, acquirers are much more likely to wipe out value than gain a small amount of value, through buying other companies.
So, maybe shareholders in Sprint and its Japanese parent Softbank should be thankful that the company walked away from T-Mobile US. And shareholders in French upstart telco Illiad—which has already put one bid on the table and looks to be pulling together a second more attractive offer—and Dish Networks, which continues to be loosely mentioned (paywall) as a possible bidder, should be wary.