India's power grid is running with precariously low levels of fuel at a large number of its power plants.
For about a month now, according to data from the Central Electricity Authority, coal stocks have been at alarmingly low levels at a hundred major thermal power plants in the country. These plants account for 75% of India's installed power generation capacity.
Since 3 August, over 45 of these power plants have had less than seven days of coal stock; and over 24 power generation units have had to work with less than four days of coal stocks.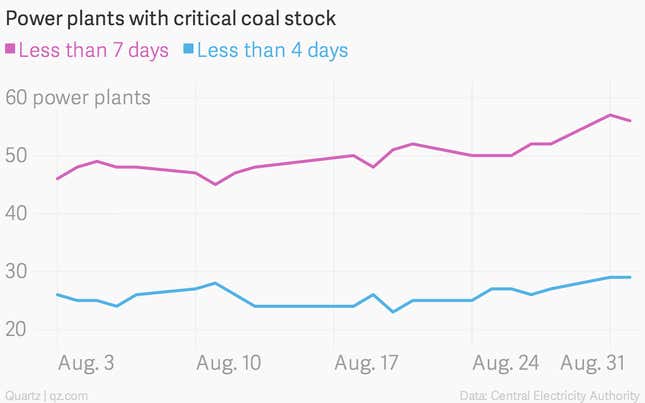 Part of the problem is that power generation units have increased their capacity utilization.
NTPC, India's largest power producer, is now running its units at 80% capacity, much higher than the 62% it averaged last year. Weak monsoons aren't helping either, as power demand surges and hydroelectric generation drops.
But electricity generation, as Quartz reported earlier, is surging, growing 16% in June 2014 compared to the year before.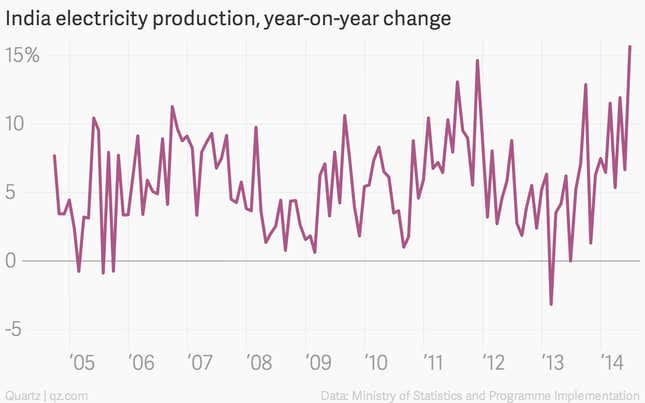 In turn, state-owned Coal India, which is responsible for 81% of the country's total production, is feeling the heat.
Although coal production by the miner grew over 5% between April and August this year, it was still only able to meet 96% of its target. And any miraculous jump in production that will bridge the current shortfall looks unlikely.
To add to the coal sector's troubles, the Supreme Court last week ruled that over 200 coal licenses granted by the government between 1993 and 2010 were illegal. The court will rule of Friday whether some or all of those allocations will be cancelled. The government is urging the court to not cancel 46 of these licenses that have started to yield coal.
A massive (unrelated) power cut that plunged Mumbai into darkness on Wednesday has raised fears that this is a sign of things to come.