The NFL is back. Tonight in Seattle, much to the delight of millions of Americans, the country's most popular sports league will return with the first game of its latest season.
It is difficult to overstate the sheer size and scale of the National Football League. It is not just America's (and probably the world's)  biggest league, in terms of finances, it is also one one of the country's major media companies. It's revenue last year of roughly $10 billion* dwarfs other leagues in the US and abroad, as well as some prominent very prominent digital media and technology companies.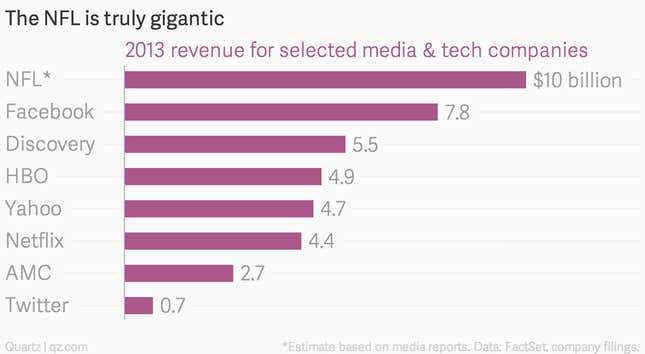 Yes, this is an apples-to-oranges comparison, and the NFL's revenue is still dwarfed by America's biggest media companies like Disney (which owns most of ESPN), 21st Century Fox,  Viacom, and Time Warner. Still, the league has said  it wants to generate $25 billion in revenue by 2027. That implies a growth rate of about 7% a year from here, attractive for any company as big (and old) as the NFL.
And we may already be getting a glimpse for how it wants to get there. According to the Wall Street Journal, (paywall) NFL officials last year talked to Google and Microsoft about licensing rights to its Sunday Ticket packages, which allow fans to watch every single game on Sundays (when the bulk of games are played). These rights are currently held by satellite operator DirecTV, which has agreed to be bought by telecom operator AT&T, and both sides have indicated that they expect to renew the agreement.
So it is probably a case of the NFL flexing its muscles to glean more money out of its current broadcast partners. The NFL's content is so valuable—it's a huge selling point for DirecTV and  a gigantic ratings driver for broadcast networks and ESPN. Live sports are one of the few reasons why people still watch linear TV, and the NFL is the biggest live sport.
But it could also be the strongest evidence yet that the NFL is the laying the foundations for an internet based, direct-to consumer offering that involves some of its live content. Other sports (Major League Baseball) and quasi-sports (World Wrestling Entertainment) have been doing this for a while now, with varying levels of success. If the NFL follows suit, it would not be an exaggeration to say it could completely transform television.
*A couple of caveats on the $10 billion figure. The NFL's finances are notoriously opaque. As a non-profit, its has to file returns annually with the IRS, but the most recent one publicly available appears to be for 2011. Media reports from the league itself last year stated revenue was $9.2 billion, while other credible reports have put it at $9.5 billion with $10 billion in sight. Clarification has been sought from the NFL*