World Wrestling Entertainment is trying something the US cable channels HBO and ESPN have avoided: making its most valuable content available over the internet, for $10 a month, and without the requirement of having a pay-TV subscription (and the associated extortionate fees/large swathes of unwanted channels).
In May, the professional wrestling and entertainment company's stock price took an absolute beating (falling by more than 40% in a single session) amid investor concerns that the internet-only WWE Network would cannibalize lucrative income the company receives from cable operators to carry its content. This dynamic is basically why HBO has been slow to sell its streaming version, HBO Go, outside of cable TV bundles to people over the internet, and why you pretty much can't get access to ESPN online unless you are a pay TV customer).
WWE has said it needs to attract 1.4 million customers for the service to break even. This morning during its quarterly results, it revealed it is now halfway there, with 700,000 subscribers now signed up. The stock has subsequently lifted itself off the canvas (rising by as much as 8% today) though it is still badly underperforming the broader market in 2014.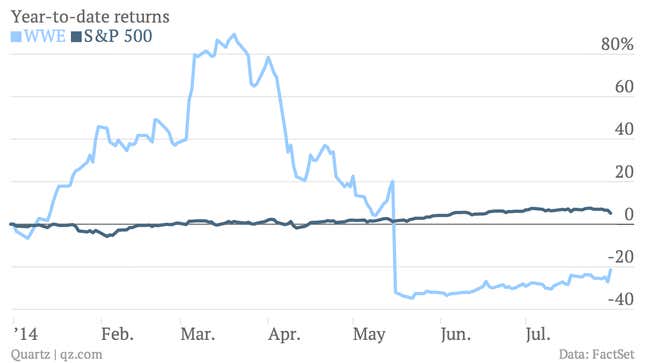 It's unclear whether today's surge was a reaction to news of the subscriber growth. It could be more a reflection of the fact that the company is cutting costs aggressively—WWE noted it has completed "a comprehensive evaluation" of its operations to cut costs, which will include a 7% reduction of its total workforce.
In any case, WWE is sticking with its bold experiment, and appears convinced it will be a success. "WWE Network continues to be the single greatest opportunity to transform WWE's business model," CEO Vince McMahon said in the earnings release. It is progressing with plans to roll out the service internationally, and a recent investor presentation makes it easy to understand why.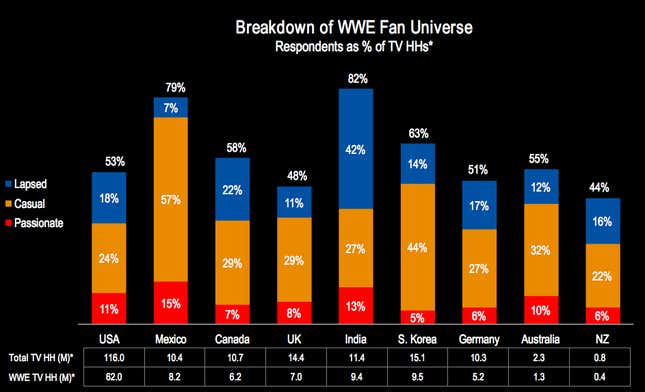 Next month, Australia, New Zealand, Hong Kong, Singapore, Mexico, Spain and the Nordics will get the service. A UK launch is expected for October, and the company said  it has plans to go live in Italy, UAE, Germany, Japan, India, China, Thailand, and Malaysia "at a later date."
By way of contrast, Netflix is available throughout Latin America, and expanding in Europe, but hasn't gone to Asia at all yet (and doesn't appear to have any imminent plans to do so).
HBO and ESPN will certainly be watching the rollout of WWE's ambitious expansion. Shareholders, wrestling enthusiasts, and cord-cutters will be hoping it works.