AMC is at a crossroads. With the legendary Breaking Bad gone and Mad Men midway through its final season, the US cable network is in dire need of a prestige-boost. It still has the enormously popular zombie show The Walking Dead (and will for the foreseeable future) but it has very little to hang its hat on besides that.
The channel took a huge gamble getting into the original series game in 2007 with the mid-century advertising drama Mad Men, and it paid off. Mad Men's thinkpiece-to-episode ratio has waned in recent years, but it's still one of the better shows on television. It laid the groundwork for the wild ride that was Breaking Bad, and it helped to usher in what we now think of as a golden age in TV.
But now the series is entering its final year, and AMC will have to figure out a way to succeed in original programming without the show that made the network what it is today. While The Walking Dead might be cable's highest-rated show, it's not rated nearly as highly by critics. And essentially all of the network's new shows—Turn, Halt and Catch Fire, and the total dud Low Winter Sun—have not caught on. People are starting to notice that AMC is not the network it was only a few years ago. (This story will be updated if AMC responds to a request for comment.)
Mad Men and Breaking Bad have 163 Emmy nominations and 31 wins between them, making them perhaps the most critically successful one-two punch in history. The problem is, AMC doesn't have any other shows that are even remotely as distinguished: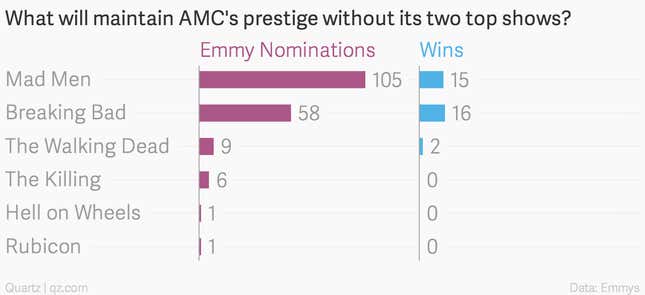 Of course, Emmy wins are not the only way to measure a network's success: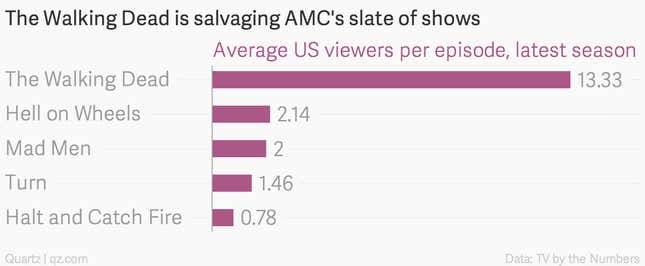 The Walking Dead is a colossal hit—and it has increased in viewership every year since its launch in 2010: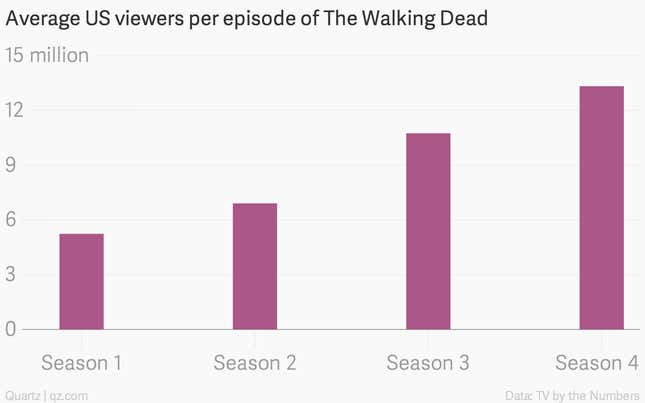 The bottom line: Nobody is watching the shows on AMC that don't involve frequent zombie beheadings. Things could be much worse, and having The Walking Dead in its arsenal may allow AMC to gamble on new drama pilots for years to come. The network has numerous interesting projects in development, but the pilots it has chosen lately have all failed to thrive.
The Breaking Bad spin-off Better Call Saul may do well (though probably not as well as its progenitor) and a "companion" show to The Walking Dead was just given a pilot order. Still, it's probably not a great sign that the network can't seem to get a brand-new series to prosper.
AMC's highest-rated drama after The Walking Dead is Hell on Wheels—and that railway-focused Western is trending downward. Meanwhile, over at its rival FX, genre fans are giving American Horror Story (which started the same year as Hell on Wheels) its most successful season yet.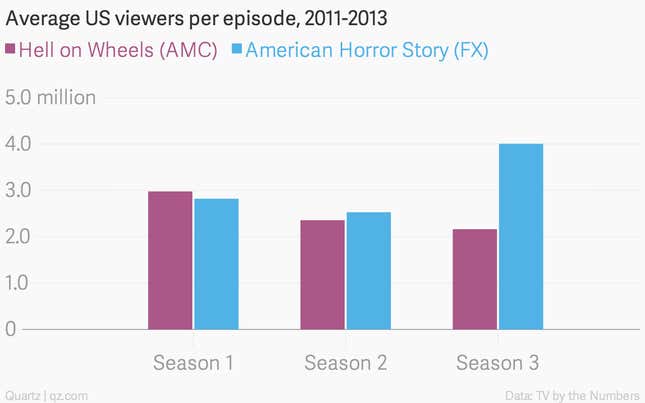 While AMC has struggled to find replacements for its top shows, FX has launched Fargo, The Americans, and The Strain to fill in for the departing Sons of Anarchy and Justified. FX also has a much deeper bench than AMC when it comes to volume of original programming.
All of that aside, for a certain contingent of AMC's fans (those partial to 1960s fashion, daytime whiskey swigs, and Jon Hamm) this might be the only chart that matters: