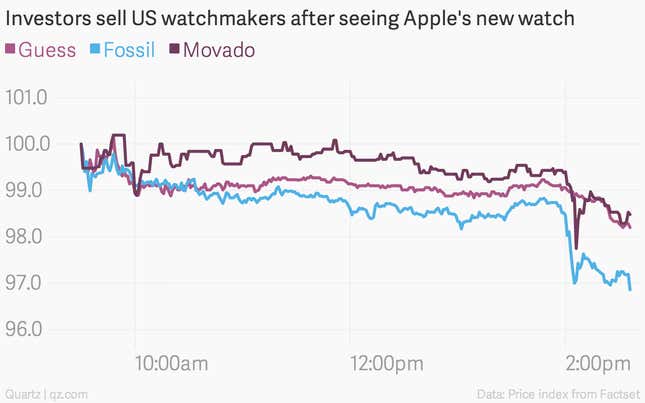 The Apple Watch is here, and it is impressive enough that investors are selling out of US watchmakers on the news.
Jon Ive, Apple's top designer, has reportedly been bragging about how his company's latest product will be trouble for Switzerland, the traditional home of high-end wrist-watches. For now, though, US markets are telling the story: Movado and Fossil, two publicly-traded US watchmakers, fell off between 2% and 3% on the news, while Guess?, Inc., a clothing company with significant watch sales, also fell more than a percentage point.
When European markets open tomorrow, we'll be watching Louis Vuitton, Swatch and Rochemont, Switzerland's largest watch brand, to get a sense of what investors in those companies think of Apple's attempt to enter the luxury accessories market. The competition is fierce: In July, Apple poached Patrick Pruniax, a top executive from Louis Vuitton's watch brand, TAG Hauer, to help develop its smart-watch strategy.