American sports haven't had a great summer. Football—the most popular American sport—has been mired in controversy for years, and the NFL routinely chooses to deny problems exist, because, well, money. None of these issues are going away anytime soon.
But sports, at their best, have transcendent, healing powers. Thirteen years ago, we saw just how much sports could, even for the briefest of moments, help a nation recover.
On September 21, 2001, ten days after the attacks on the World Trade Center, the New York Mets hosted the Atlanta Braves at Shea Stadium in the first sporting event in New York City since the attacks. In the bottom of the 8th inning, with a man on base and the Mets down a run, catcher Mike Piazza took the plate.
Piazza's game-winning home run sent the stadium into a frenzy; strangers began hugging each other. Families of those lost in the attacks were in attendance. For some, the moment gave them hope for the future.
Two days later, the New York Giants headed to Kansas City to face the Chiefs in the first Sunday of NFL games after the attacks. They were greeted by a longstanding ovation by the normally hostile crowd at Arrowhead Stadium. Fans raised over $200,000 for the relief effort, a total that was matched by Chiefs players and coaches.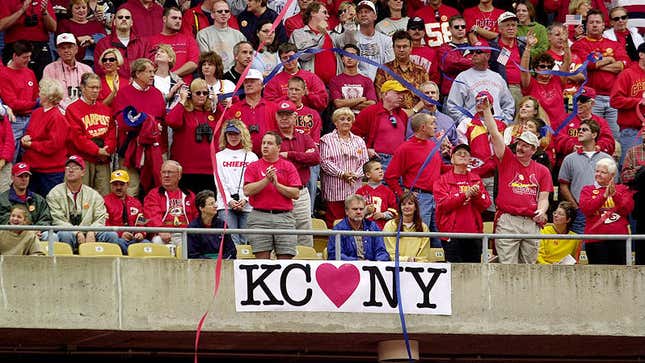 The Giants ended up winning, 13-3.
So the next time you think you've lost all faith in sports, remember that they do matter. Remember that on one crisp September night in 2001, sports made us smile again.