Harvard students know which way the wind is blowing. According to a report from the Harvard Crimson, the school's introductory computer science class (CS50) has a record 818 undergraduates this fall. Twelve percent of undergraduates are taking the course, making it the most popular Harvard course in at least a decade.
Here's the increase in course enrollment since 2004, the year Mark Zuckerberg created Facebook in his Harvard dorm room: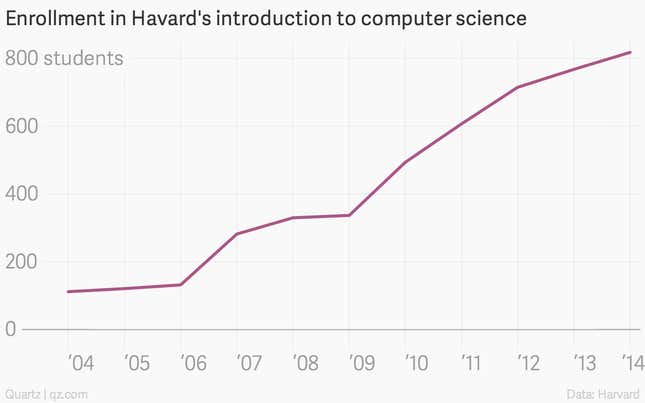 Despite its reputation as one of the school's hardest courses, CS50 has surpassed the perennial favorite, Principals of Economics (Ec10A). There appears to be some cannibalization: CS50 enrollment jumped to 818, from 768 last year. Ec10A enrollment dropped to 711, from 772.
It's a rational response to rapidly rising salaries for computer science graduates, reports of skill shortages, and the growing roster of tech billionaires.