One potentially interesting application for the forthcoming Apple Watch is Twitter, which is among the few forms of media that is both immediate and concise enough to read on your wrist.
Apple briefly featured Twitter in its presentation, showing four features: the ability to receive a Twitter notification, favorite or retweet a tweet directly from that notification, view your timeline and trending tweets, and compose a new tweet.
A Twitter rep tells Quartz that you will also be able to tap to view a Vine video on the Apple Watch. Also: "Twitter for Apple Watch also takes advantage of Glances"—that's Apple's word for watch notifications—"to give you a real-time look into what's trending on Twitter. With fluid navigation and intuitive controls, the user is at the center of the experience and just a tap away from the latest news, updates, trends and more."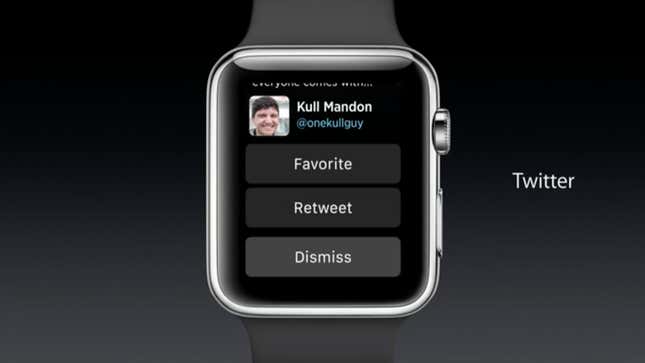 These seem like straightforward, if obvious features for Twitter's first Apple Watch app. But are they really that compelling? The key for Twitter—and, really, for all Apple Watch apps—is to pass this test: Why shouldn't I just do this on my phone?
There's no right answer yet—we'll have to experience it to know. Getting poked by your watch because some random person mentioned you on Twitter, or a hashtag is trending, doesn't seem worth it. A direct message? Sure—especially if Twitter is going to get more serious about messaging. A news alert? Maybe. But a bunch of people talking about something interesting that's happening nearby—right now—could be useful. Or something else that Twitter can uniquely highlight, like transit delays, major accidents, or local disasters.  Or just that my timeline is going nuts for some reason. That might be worth getting notified about.
The Apple Watch also makes a solid case for a more algorithmically curated, condensed Twitter timeline—which fits in line with some of Twitter's recent experiments. One thing we noticed is the text in Twitter's app that describes your Timeline: "New and interesting."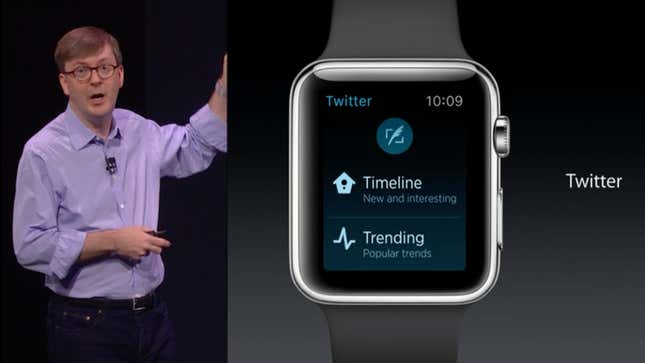 Does this mean something different than the entire, raw Twitter timeline? If we're sitting in a meeting or on a bus, we probably don't need to read all of Twitter. But—just hypothesizing, now—the best 10% of tweets in our timeline could make a great on-wrist snack here or there.
Twitter wouldn't elaborate about its wording here. But it's worth noting that it could all just be placeholder text, or could mean nothing. And by the time the Apple Watch launches next year, we imagine some of Twitter's more significant, planned product changes may have happened, so things could easily change between now and then.