The markets have been worried about a lot of things lately. Russia's horseplay in eastern Ukraine. Continuing horrors out of the Middle East. A China that seems to be stuck in neutral. And run-of-the-mill European economic sluggishness.
One thing that wasn't on the menu? Concern that the 307-year-old Act of Union that created the United Kingdom might suddenly unravel. But here we are. Starting last Sunday, polling showed support for Scottish independence surging, making it a very real prospect that Scotland might vote for independence from the UK in a referendum next Thursday.
Scotland's options seemed to have a spillover effect in continental Europe, reigniting debate over independence in Spain's restive Basque and Catalonian regions and in Flanders, where some seek to separate from Belgium. The risk—albeit small—that the configurations of these countries could change seemed to reverberate in the market for government debt, which sold off bonds from the countries in question.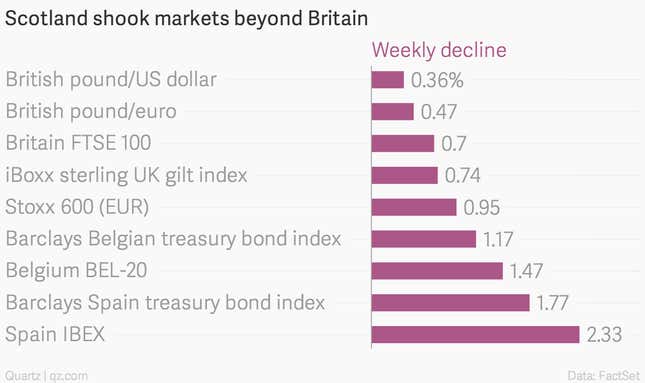 After a nasty kneejerk stumble on the initial news of growing support for Scottish independence, the British pound recovered some lost ground throughout the week, as other polls seemed to show that the independence push might be losing some steam. At any rate, the vote should make for some exciting moments next Thursday. And if the financial markets are right, they could have implications for countries beyond Britain.