The Apple Watch isn't just another iDevice, a wearables accessory to the Apple ecosystem. It's a bold attempt to create a new kind of wrist-worn personal computer that looks like a smartwatch.
In previous Monday Notes dealing with the putative iWatch and other wearables, I thought the new product would be a nice add-on to the iDevices ecosystem—a bit player that would make the iPhone more desirable—but that it wouldn't move the needle, meaning $10 billion or more in revenue. I reasoned that a watch battery would be too small to feed a computer powerful enough to offer a wide range of apps and communications capabilities.
I was wrong.
In his demonstration (76 minutes into the official video) at the Cupertino Flint Center last Tuesday, Kevin Lynch, the Adobe defector who now runs the Apple Watch software engineering effort, showed us that the Watch isn't just a shrunk-down iPhone: It can stand on its own, it has introduced an entire new genre of user interface, and will have its own App Store. The reinterpreted watch crown, a side button, touch and pressure on the face, plus voice all combine to a potentially rich and unique set of ways to interact with this newest very personal computer.
As Horace Dediu, our disruption scholar, puts it:
"The Apple Watch is as much a Watch as the iPhone is a Phone."
The almost overwhelming richness of the user interface and of demonstrated apps led one twitterer to express a concern I can't suppress:
Will the software overwhelm the hardware, resulting in problematic battery-life, or befuddle normal humans?
Indeed, I remember how I worried when Steve Jobs first demonstrated the iPhone on January 9, 2007 and stated it ran OS X. Knowing Jobs' occasionally robust relationship with facts, I feared embarrassment down the road. But, no. When the iPhone shipped almost six months later, on June 29th, hackers immediately dissected it and discovered it ran a bona fide pared-down version of OS X—later renamed iOS.
As with the original iPhone, we might be six months away from a shipping product, time for Apple to fine-tune its software and work on the S1 SoC (System on a Chip) that drives the watch…and to put in place the supply chain and retail operations for the many Apple Watch variations.
In the meantime, some choice morsels of context will help as we consider the impact of Apple's new Watch. We'll start with Marc Newson, the famed designer (and Jony Ive's friend and collaborator)  who just joined Apple. If you haven't done so already, take a look at this video where Newson flips through his portfolio of watch and clock designs, including this striking reinterpretation of a great classic, the Atmos Clock from Jaeger-LeCoultre: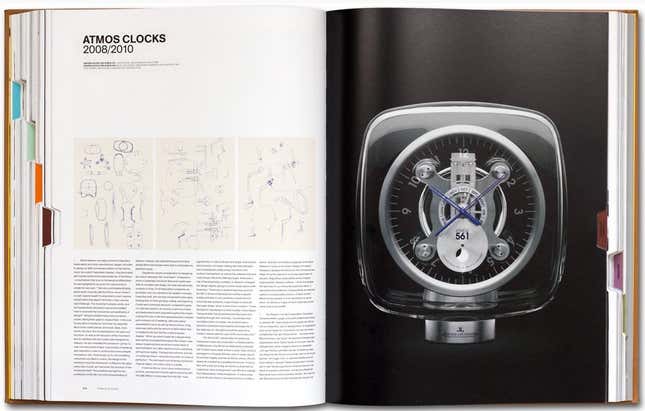 (The pages that Newson surveys in the video are taken from a book published by Taschen, the noted publisher of lovingly designed art books.)
For more context, follow this link supplied by Kontra (a.k.a. @counternotions) and regard the sea of watch designs from Newson's Ikepod days, a company Newson left in 2012.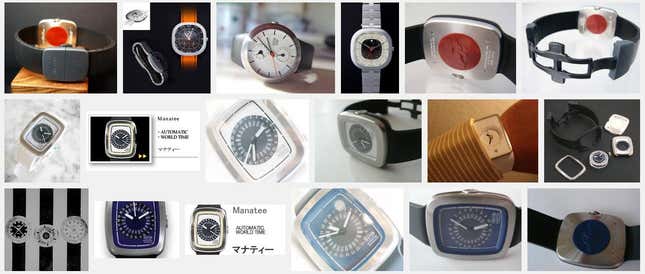 Turning to the Apple Watch mega-site, we see a family resemblance:

Professional watchmakers and industry executives seem to appreciate Newson's influence and Apple's efforts, although they are quick to point out that they don't think the Apple Watch is a threat to their high-end wares ("It's a techno-toy more than a watch, but what a fun toy," says Laurent Picciotto of Chronopassion Paris). Watches by SJX provides a quick collation of What The Watch Industry Thinks Of The Apple Watch. Swiss watchmaker Eric Giroud voices the majority opinion:
It's a nice product; good shape and amazing bracelet—thank you Marc Newson for the resurrection of the Ikepod strap. It's difficult to speak about its impact on watchmaking because the Apple Watch is not a watch except that it is also worn on the wrist.
Benjamin Clymer is the editor of Hodinkee, an on-line magazine dedicated to the world of watches. In a post titled A Watch Guy's Thoughts On The Apple Watch, Clymer provides a review that's informed by a deep personal knowledge of the watch scene. If you don't have time to read the whole article—it's a long piece—the author provides a good summary in the introduction [emphasis mine]:
…though I do not believe it poses any threat to haute horology manufactures, I do think the Apple Watch will be a big problem for low-priced quartz watches, and even some entry-level mechanical watches. In years to come, it could pose a larger threat to higher-end brands, too. The reason? Apple got more details right on their watch than the vast majority of Swiss and Asian brands do with similarly priced watches, and those details add up to a really impressive piece of design. It offers so much more functionality than other digitals it's almost embarrassing. But it's not perfect, by any means.
Not everyone in the watch industry is so impressed. In an article titled Apple Watch 'too feminine and looks like it was designed by students', says LVMH executive, The Telegraph provides the money quote [emphasis mine]:
"To be totally honest, it looks like it was designed by a student in their first trimester," added Mr Biver, who heads up the brands Tag Heuer, Zenith and Hublot.
The article evoked general hilarity and prompted more than one commenter to dig up the infelicitous Ed Colligan quote about the iPhone:
PC guys are not going to just figure this out. They're not going to just walk in.
I'll offer a rewrite for Jean-Claude Biver and his haute horlogerie colleagues:
We like Apple products, they provide productivity and fun in our daily lives; we respect the sense of design Sir Jony and now Marc Newson bring to the company. I wish I could say more but, try as I might, I couldn't get the livestream of Mr. Cook's presentation to work in my Rue de Rive office in Geneva. First, there was this Mandarin dubbing, I can understand why but it was really annoying. Then, the transmission kept breaking down. I imagine that the tons of concrete now being poured for Apple's next headquarters will provide a suitable resting place for the individual in charge. Again, congratulations on a well-executed global launch.
More seriously, let's put streaming glitches glitches aside, they won't matter in the longer run because they don't concern the product itself. Last week's launch, its detailed preparations, including the no-longer mysterious white building, attest to the gravity of Apple's long-term ambition.
As additional evidence that the Apple Watch isn't just a hobby, recall that the iPhone was initially offered in one size and one color. By comparison, the Apple Watch is an explosion: It comes in three styles and two sizes (in millimeters, 38 and 42, because that's the trade vocabulary), two material/finishes for each style (silver and space gray, yellow or rose gold), nine bands for the basic Apple Watch, six for the Apple Watch Sport, and at least four for the gold Apple Watch Edition—and all with matching crown buttons. Henry Ford has definitely left the building.
The fact that Apple invited fashion editors to Cupertino (some of whom had to be told where that town is) is another Think Different sign. Nerds are still welcome, but this is a new game. Again, turn to the Apple Watch site and look at the bands/bracelets. As Ben Clymer notes in his piece, the level of detail tells us this isn't just another iDevice.
Stepping back a little, when I see the team of watch industry execs, design luminaries, and fashion experts Apple has brought on board, I have a hard time believing that Apple is going to stop at watches. At the very least, will Ive and Newson bring livelier, more varied designs to the iPhone? And what does Tim Cook mean when he slyly alludes to products that "haven't even been rumored yet…"?
But let's not get ahead of ourselves—we're still barely past the demo. We'll have to wait for the actual product to come to the wrists of real users. Only then will we have the Apple Watch make-or-break moment: Word-of-mouth from non-experts.
And, still in the not getting ahead of ourselves department, for Apple, the make-or-break product is the iPhone 6. The Apple Watch makes great "ink" and iPhones make the money.
You can read more of Monday Note's coverage of technology and media here.