Kirin Breweries, one of Japan's top beermakers, is about to pay $9.2 million for a minority stake Yo-Ho Brewing, a brewery with just 30 employees located deep in Japan's mountainous Nagano prefecture, Nikkei's Asian Review reports. While Yo-Ho's staff is small, the company's Yona Yona Ale has been lauded in Japan and internationally, and sales have grown by double digits in recent years.
Yo-Ho's sales growth is a stark contrast to the overall beer industry in Japan, which is dominated by Sapporo, Asahi and Kirin. Overall beer consumption has been declining for over a decade, as Japanese consumers embrace lower-calorie drinks like white wine spritzers and cheap canned cocktails.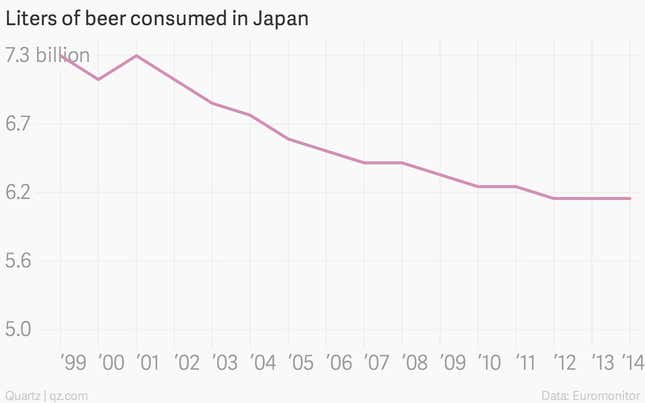 Kirin's deal is the first big acquisition by a major Japanese brewer into the local craft brewing market, but it all the signs are right for a Japanese version of the takeover of the US craft-brewing industry. Japan's big brewers like Asahi have sought out acquisitions overseas (paywall) in recent years to offset a decline in domestic beer demand. But continued weakness in the yen and the growing popularity of local craft brews may turn their focus toward home.
Since the Japanese government changed laws in the mid-1990s, dozens of microbreweries have sprung up around the country, not unlike the US's small brewery craze. Japan's breweries—often run by families who have brewed sake for generations—make beers that are sometimes reminiscent of European and US styles, but are known for drawing from a "far wider range of unusual ingredients" and relentlessly refining their brewing techniques and end products. 
Just as the Japanese pursuit of perfection (paywall) is spawning restaurants that now offer up French food that's better than what's available in France and espressos that rival Italy's, Japan's craft brewers are now making some of the best beers in the world. They include Osaka's Minoh Brewery, owned by three sisters, which won the World's Best Imperial IPA award in 2013: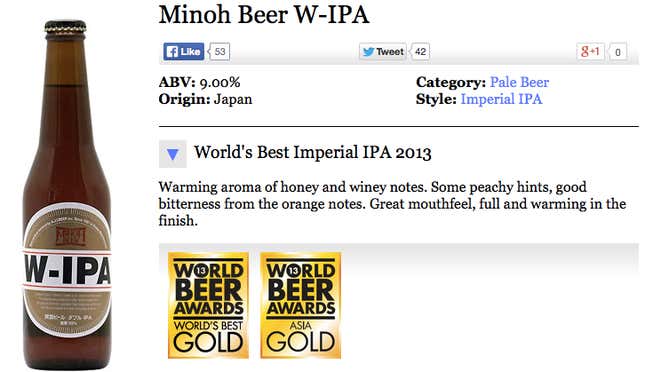 And the Coedo Brewery in Kawagoe, which won a silver in the "American-style amber lager" category at the 2014 World Beer Cup for its Kyara beer: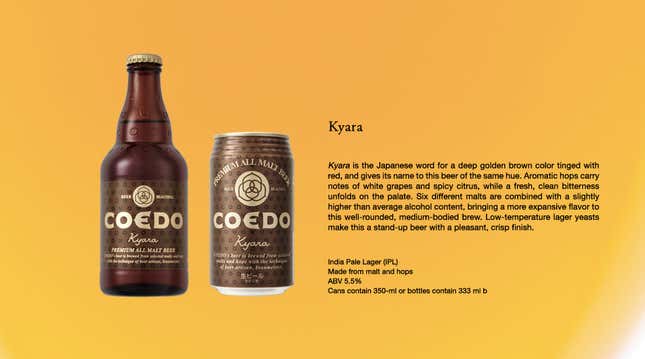 Japan's craft brewers are "taking things from other places, tweaking them and making them better," Mark Meli, the author of Japan's first guide to microbreweries in English, told The New York Times earlier this year.  Perhaps because of these improvements, Japan's consumption of craft beers increased from 29 million liters in 2008 to 35 million in 2013, a jump of 21%, according to Japan's Craft Beer Association.
Despite the growth, the market remains small; domestic microbreweries only account for about 1% of Japan's beer consumption, the publisher of the Japan Beer Times told Bloomberg last year. That's in part because prices are high—as much as twice what you'd pay for an Asahi or a Kirin. Still, brewers are optimistic that the weak yen could spark even more interest in local craft beers, as US and European imports become more expensive.