Edward Snowden may be giving Chinese phone makers a boost. A Chinese official told a forum last week that Shanghai had ordered all officials to use phones made by domestic companies instead of those made by Apple or Samsung "because of security risks."
Shanghai municipal officials have denied the claims by Wei Jianguo, secretary general of the think tank the China Center for International Economic Exchanges, according to the China Daily, but such a move would not be terribly surprising. Over the past year, Chinese authorities have been restricting the use of foreign IT for national security reasons, after Snowden revealed the US National Security Agency's spying program, PRISM, in 2013. In August, Bloomberg reported that Chinese officials were barred from buying certain Apple tablets and computers with public money because of security concerns. In May, Beijing forbade Chinese government offices from using Windows 8 and said they would vet imported IT equipment for potential national-security breaches. Soon after, it branded the iPhone a security threat.
Whether China is really worried about foreign spying through a Galaxy or iPhone isn't certain. What is clear is that Chinese smartphone and computer makers stand to benefit from any rule that requires the country's millions of officials to avoid devices made by foreign companies. China's almost saturated mobile and smartphone market means the playing field is getting crowded. The Chinese brand Xiaomi passed Samsung in terms of shipments to become China's top handset seller for the first time during the second quarter of the year. Samsung is tied with the Chinese brands Lenovo and Yulong for second place.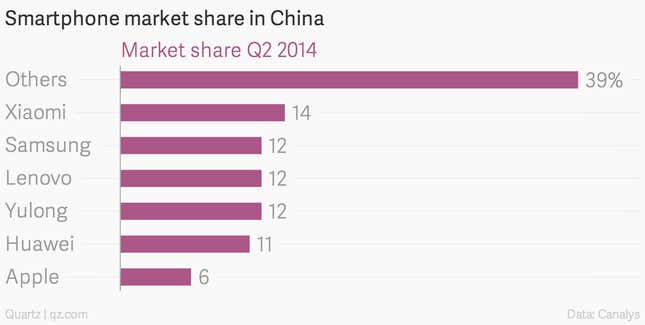 It's doubtful that keeping foreign smartphones, tablets, and computers away from Chinese civil servants will do much to stop espionage. After all, the NSA has breached the Chinese IT firm Huawei's servers and vast computer and telephone networks.