The days of heady growth in China's mobile phone market, the largest in the world, may soon be over. According to data from China's national bureau of statistics, the growth of new mobile phone users is slowing dramatically. The absolute number of mobile phone users in China is still growing but average monthly growth has more than halved over the year to April: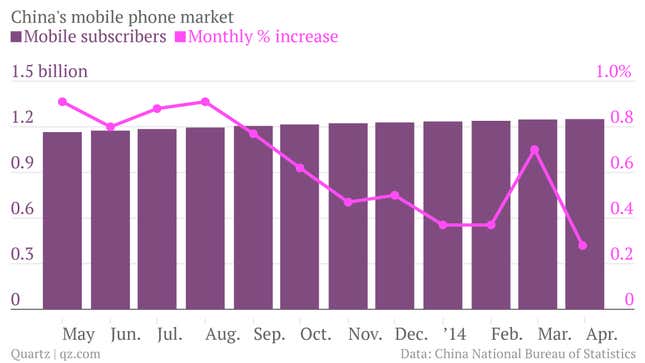 China's level of mobile penetration was around 89% in 2012, behind only the United States, Italy, Russia, and South Korea. And it's not just inexpensive dumbphones: Smartphones made up 82% of all mobile phone sales in 2013, and analysts believe that number could reach 90% this year. Research firm IDC predicts Chinese smartphone shipments will only increase by about 10% next year, compared to 64% in 2013. (Granted, Chinese shipments are still six times that of India.)
A saturated Chinese mobile phone market affects not just handset makers like Samsung and Apple that are relying on emerging markets for growth, but also Chinese internet giants like Tencent, Alibaba and Baidu, which have been racing to establish their many apps and services with China's 1.25 billion mobile phone users.
Half of the top ten mobile phone brands in China last year were domestic, and even South Korea's Samsung, the most popular brand in China, had only a 18% market share as of the first quarter of this year. When you look at the end of runaway growth in the world's biggest mobile phone market, it's clear why China's domestic manufacturers are looking abroad for growth.