Facebook's controversial plan to split its messaging feature into a separate mobile app is working.
Facebook Messenger has been the no. 1 most popular app in the US iPhone App Store most days since late July, according to App Annie, a service that tracks the app economy. It is currently the no. 1 iPhone app in eight countries, and in the top 10 apps in 126 countries. (Its popularity is similar on Android.)
Facebook won't say how many users Messenger has—its most recent publicly disclosed stat is from April, when Facebook said it had more than 200 million monthly active users globally. That number is likely much higher now. In the US alone, its user base has grown 75% since then, according to comScore, to 67 million unique visitors in August.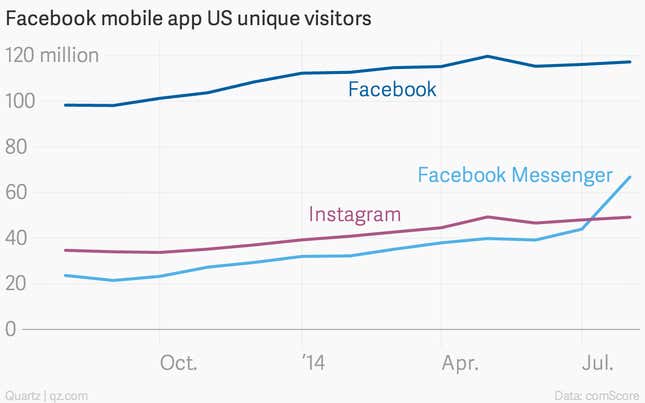 This despite a lingering whine from some Facebook users who are upset about having to keep two apps on their phones. The latest version has 4,100 one-star reviews on the App Store, which represent 85% of its total reviews.
Facebook's success with Messenger is great news for the company for three reasons.
First, it shows that Facebook can manufacture a second hit product. The Facebook app itself is the most popular in the world, but it's still one product. Most of Facebook's other attempts to build hits haven't succeeded, such as its multiple tries to clone Snapchat's success. (It wisely purchased Instagram, but that was already well on its way to stardom.) But Messenger is working. Why? In part because of the central role messaging plays on mobile devices, in part because of Facebook's massive distribution power, and in part because it is an excellent, thoughtful, fast, and rather fun messaging app.
Second, it suggests that messaging apps might not topple Facebook after all. A year ago, it was less certain. The growth of WhatsApp, LINE and WeChat in Asia, and other messaging apps seemed like a potential threat to Facebook's future. Could the smartphone contacts app—your friends' phone numbers—make Facebook's hard-earned social graph irrelevant? Not yet—Facebook seems to be thriving. (Of course, since then, Facebook also reached a deal to acquire potential rival WhatsApp—its largest acquisition yet, which hasn't yet closed. It also smartly added support in Facebook Messenger to message non-Facebook users.)
Third, it may open new revenue streams beyond advertising—payments in particular. Facebook's advertising business fits its core social-networking product very well, so it's no surprise that it has grown so much. Payments and commerce have not worked as well for Facebook—a small, flat business.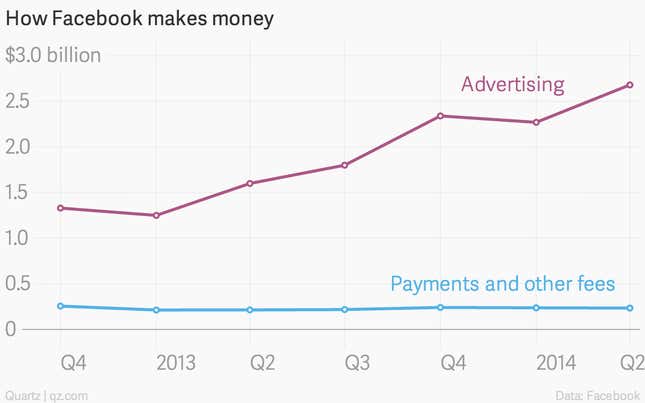 But if Facebook Messenger becomes the go-to mobile app for quick one-to-one and group communication, there's a real opportunity for new revenue streams, such as peer-to-peer payments. Facebook recently hired former PayPal boss David Marcus to run its messaging business. Watch this space.