The momentum is building in the American business sector. The latest revision of US GDP growth for the second quarter showed business investment rose 9.7% in the three months ending in June. That's better than the 8.4% increase reported as part of the second revision of the GDP numbers. And much better than the 1.6% rate of growth in the first quarter.
The improvement was broad-based. Investment in nonresidential construction was revised up to 12.6%, from 9.4% in the second revision. And investment in business equipment was up 11.2%, better than the 10.7% previously reported.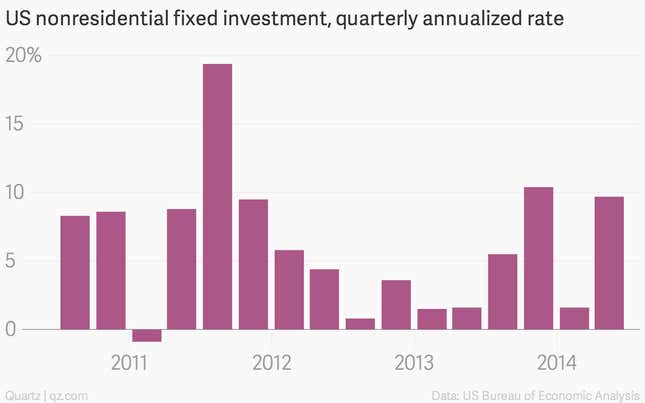 An upturn in corporate investment shouldn't come as a major surprise. Despite a rough ride this week, US equity markets are having a solid year, and business and consumer confidence are at, or near, post-crisis highs. This is good news, as business investment is a big driver of the demand that fuels the economy; it's also a crucial part of keeping an economy productive over the long term.
But the fact the companies seem more interested in plowing money back into growth plans, rather than keeping it as profits, could start to weigh on high-altitude profit margins companies—and investors—have become accustomed to in recent years.