The English football club Chelsea has begun talks to move to the home of English rugby temporarily as it seeks to redevelop its own stadium. It is not the first time that Chelsea has tried to move or redevelop its ground, and it is just one of several teams in the English Premier League trying to find bigger homes at the moment. They're all betting these new stadiums are the only way to stay competitive—on and off the pitch—in the cut-throat world of soccer.
Chelsea's current capacity at Stamford Bridge, its stadium in Fulham, London, is 41,800 and the owner Roman Abramovich wants to expand the size to 60,000, preferably by leaving the team's home of more than a century and moving to another location in West London.
And half the Premier League is trying to move or upgrade. Liverpool has permission to add 13,000 extra seats. Its crosstown rival, Everton, is exploring a stadium. The current champions, Manchester City, plan to expand their base to 55,000. West Ham is going to move into the Olympic Stadium, beating out Tottenham for the rights—which instead is building a 56,000-seater next to its current ground and, like Chelsea, is searching for a temporary home. The list goes on.
Why are all these clubs doing this? It is all about match-day revenue. Soccer teams still make a large percentage of their money from fans attending matches.
Take Arsenal. In 2006, it moved from its home ground in Highbury to the brand-new Emirates Stadium nearby, with capacity going from 38,000 to 60,000. The team's match-day revenues in 2005 were £37 million ($60 million). Revenues from the gate are now more than £100 million. But as match-day revenues have shot up, so too have total revenues—TV rights and other revenues have ballooned. Gate receipts remain around a third of total revenues at Arsenal.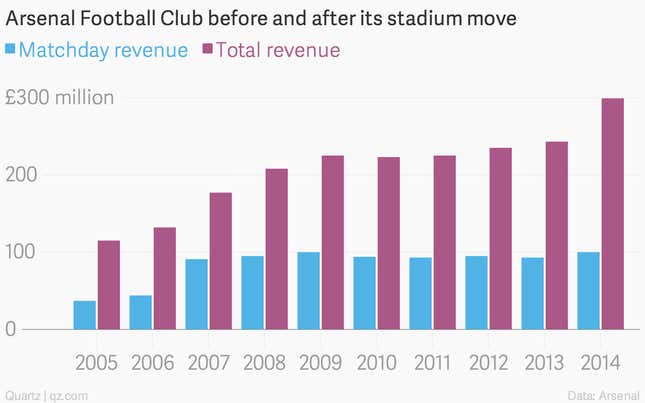 So why do all these other clubs want bigger stadiums if other revenues are growing? Well, for one thing, demand from soccer fans in England is pretty insatiable. Arsenal has the highest ticket prices in English soccer, and the wait-list for a season ticket is still several years.
For another, stadium construction costs allow teams to get around regulations on their spending. UEFA, the European governing body of the sport, is cracking down on debt-fueled spending through Financial Fair Play regulations, which cap the total amount of losses clubs are allowed to have at 45 million euros. Crucially, money spent on building stadiums or developing youth academies do not count towards the cap. Arsenal, for example, is nowhere near breaching the rules because of prudent spending on its stadium and players. Others have spent a fortune under their billionaire owners and are under investigation or have already failed the rules, meaning they face on-field penalties. For many, spending on the best players is no longer going to be feasible. Add the two factors up and a bigger stadium makes sense.
But building a stadium, especially if there isn't a sugar daddy like Abramovich to pay the bill for the real estate (which is going through something of a boom) is a complicated and risky move.
With Chelsea, Abramovich has faced headache after headache. The trouble is that the fans own the land under the stadium—it was given to them to prevent any property developer coming in and buying out the owner—and shareholders in the Chelsea Pitch Owners company refused to sell the land to Abramovich. The multi-billionaire owner has tried to buy other areas of prime land in London—including an audacious bid to turn the Battersea Power Station (of Pink Floyd album cover fame) into a stadium. Now, it looks like redevelopment is Chelsea's only option.
And Arsene Wenger, the Arsenal manager, has warned his local rivals Tottenham about the difficulties of trying to win and balance the books while building a new stadium. "I knew always that would be the most sensitive period in the history of the club," he said. "The way we did it is the hardest way, because we had no outside financial help and had to negotiate with the banks just to get the money at the start—and let's not forget we paid £120 million just for the land. In the end, we built the stadium for £400 million. Today, it would cost £600 million or up to £700 million."
And some teams are finding that by the time they've built a new stadium, their rivals are already a step ahead. Over in Spain, Barcelona plans to expand its already-huge 98,000-seater Nou Camp. It will be Europe's first stadium with more than 100,000 capacity.