HONG KONG—On any given business day, Hong Kong's 7.2 million people take 12.4 million journeys on public transport, many of them coming into and out of the area of the city known as Central.
The neighborhood is home to finance giants including Bank of China, HSBC, and Citigroup, as well as the Hong Kong Stock Exchange. It's also the local headquarters of companies including Rolex and the law firm Clifford Chance, along with the city's main government buildings and China's People's Liberation Army Force.
But since Hong Kong's mass protests started, a daytime visit to Central or Wan Chai, the two neighborhoods abutting the agitation's epicenter at Admiralty, has offered up glimpses of a post-apocalyptic Hong Kong. Because protesters have blocked roads and some businesses are keeping employees home, the neighborhoods during the day are eerily empty, with abandoned avenues and overpasses that normally teem with many of Hong Kong's 18,000 taxis, 163 trams, thousands of buses, and half a million cars.
For the past two nights, the streets have filled up with protestors, but during the day it is possible to find yourself practically alone in the middle of a highway in one of the world's most crowded cities.
The solitude has offered a unique glimpse of some of Hong Kong's modern buildings. The streets outside the I.M. Pei-designed Bank of China Tower, which has distinctive, diamond patterned sides, are normally snarled with traffic; getting a clear picture of the 72-story tower from anywhere but the sidewalk below is normally difficult. Not today, though: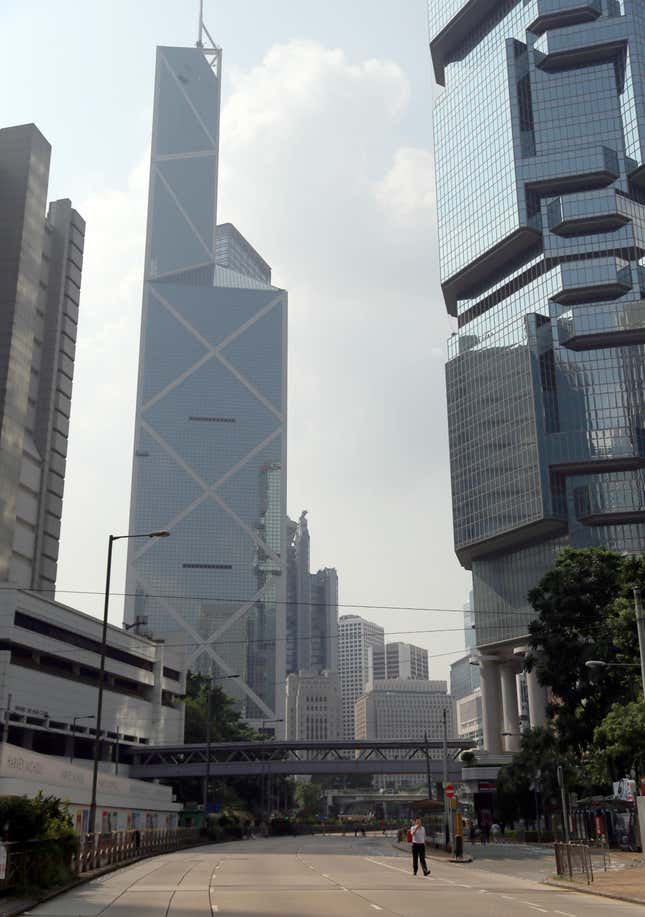 Ditto for the Lippo Center, a twin-towered complex across the street, designed by American architect Paul Rudolph, which attracted intrepid tourists and Hong Kong residents, who snapped once-in-a-lifetime selfies today from the road.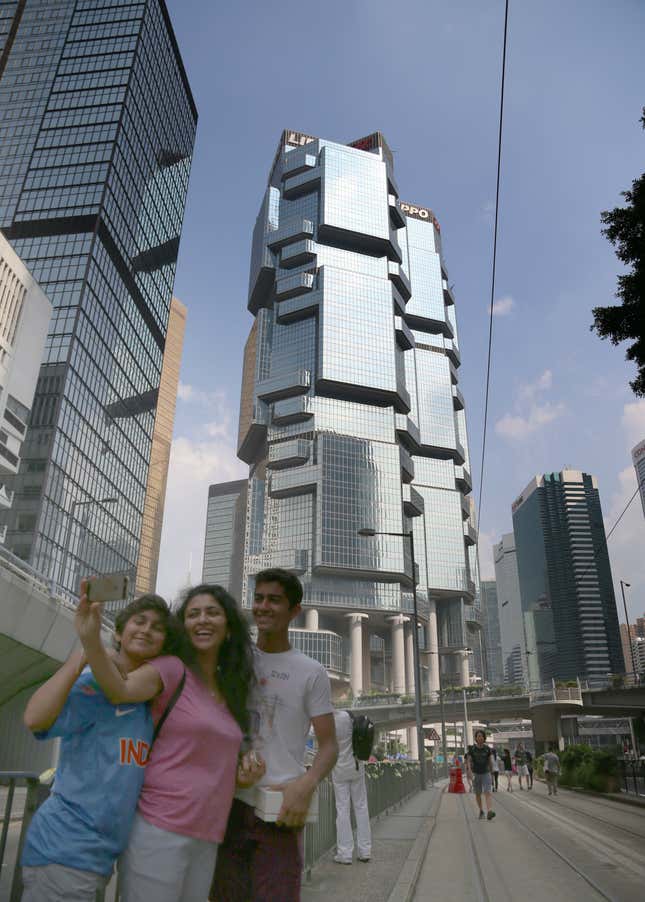 And when else will anyone be able to stand in the middle of one of Hong Kong's busiest overpasses?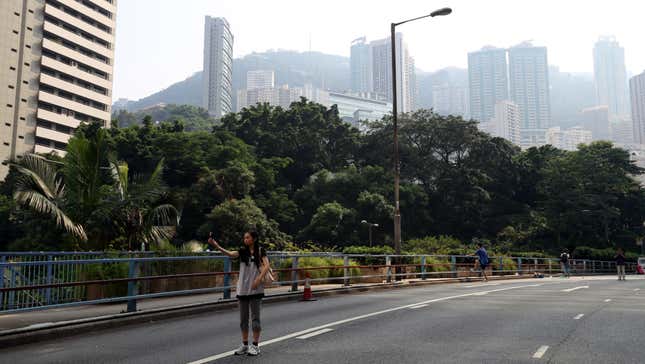 The short stretch of road known as Queensway normally is packed with multiple lanes of honking traffic and dinging trams. Today, a few pedestrians walked along the tram tracks: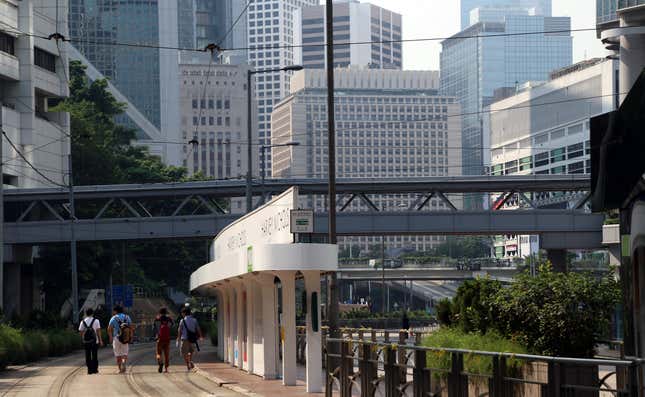 The emptiness drew comparisons to the Danny Boyle movie 28 Days Later and the Tom Cruise flick Vanilla Sky:
Hong Kong's abandoned streets also have proven a great place to shoot wedding photos. That's the Chinese army's headquarters with the inverted pyramid base, in the background on the left.