Movie directors are swarming to the small screen, where networks are allowing them to have more and more creative control with which to imbue TV shows with their distinctive styles.
Consider what Steven Soderbergh is doing with the turn of the century medical drama The Knick on Cinemax. The series looks, feels, and sounds like Soderbergh in the best possible way—he directs and edits every episode, operates the primary camera himself, and employs frequent musical partner Cliff Martinez to bathe The Knick with an electric, synthy score that is synonymous with Soderbergh's films.
And now, with the news that David Fincher—one of the most extolled film directors on the planet—will direct every episode of the upcoming HBO thriller Utopia, it has officially moved beyond a mere industry trend into something close to a revolution.
Television used to be film's graveyard: Aging actors and failed movie directors would use the small screen as a place to prolong their careers. Fincher's decision to focus on Utopia in 2015—and, ostensibly, forgo directing any films—speaks volumes for how much TV has changed. It's no longer a graveyard for Hollywood players—it's a playground, and big-time filmmakers are using TV as their personal laboratories to tell stories deeper than what the time constraints of a movie allow.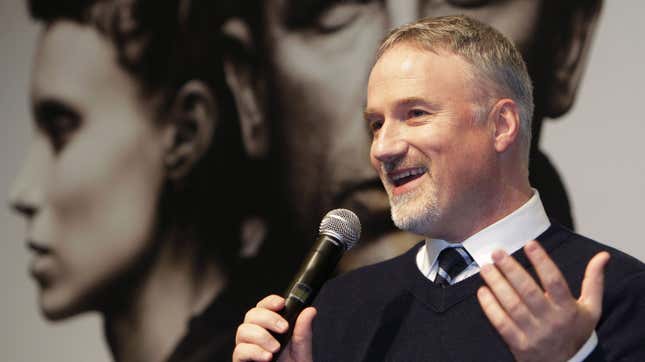 The phenomenon didn't begin with True Detective, but Fincher and others probably wouldn't consider experimenting with TV had that series not been as good, or as successful, as it was. Cary Fukunaga directed every episode and proved that the auteur model could fashion a series as captivating as anything else on TV.
Fincher is betting that lightning will strike twice for HBO (which seems to be leading this revolution). It's a very good bet.
One reason why the auteur structure works so well on TV is aesthetic consistency. Episodes of True Detective (or The Knick) bleed into one another, so what you're getting is, essentially, a very long film. The binge-watching experience is likely to be enhanced by that visual stability. But even week-to-week watchers benefit from a single director—each week you're brought back to the same world you were in the week before, like you're picking up a novel right where you left off.
Fincher directed the first two episodes of House of Cards but then took a back seat to a slate of other directors who carried out creator Beau Willimon's vision. These directors didn't necessarily mimic the feel and tone that Fincher introduced, but it's obvious they tried to give the show a unified look. But what better way to achieve that goal than to have the same person direct every single episode? Fincher fans will find out with Utopia.
There are a number of other major film directors involved with TV, but fall short of controlling an entire series: Guillermo del Toro with The Strain, Martin Scorsese with Boardwalk Empire, Peter Berg with The Leftovers, J.J. Abrams with…everything.
Who will be next? Danny Boyle, Christopher Nolan, Paul Thomas Anderson, the Coen brothers—television is calling your names.