The more women who rise to the top levels of management, the better the results are for the companies they're managing. It's a link long-established in studies, and now even private-equity money and mutual funds chase returns rooted in this rule.
The money this growing group of women is making, and the responsibilities that come with it, are changing family wealth and dynamics. A look at the shifting perspectives and behavior related to wealth tells an insightful story on the priorities of female executives.
The 2014 U.S. Trust Insights on Wealth and Worth® survey digs into the data provided by 292 high-net-worth women (with at least $3 million in investable assets) with various business backgrounds.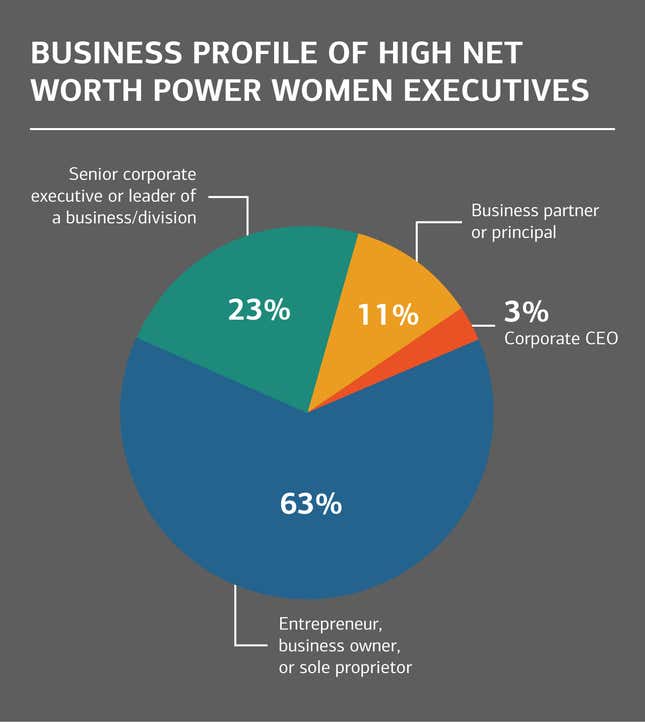 Nearly half of these women are equal or primary earners in their families, and two-thirds contributed as much as their partner or more in assets when they entered the relationship.
Increasing financial responsibilities often do not mean fewer at home, however. Nearly three-quarters have equal or primary childcare responsibility. More than a third care for elderly relatives, and an inordinate amount also support extended family.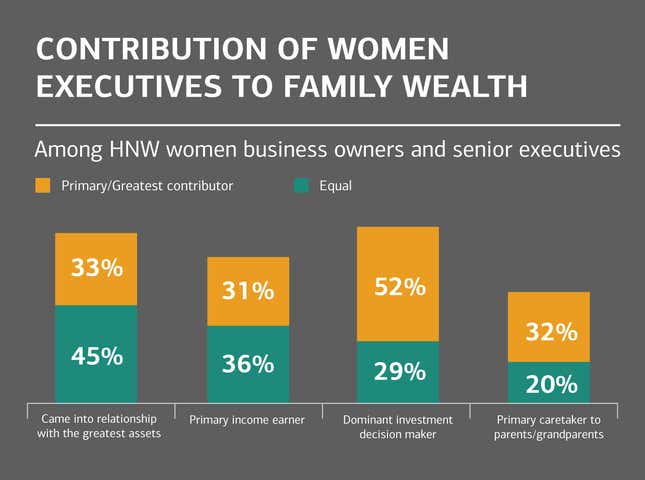 The always-intensifying tension between the professional and personal for these women, especially as their earnings become more crucial to their families, can create another demanding duty as they seek ways to maximize and protect their investments. It's a key task not just for the health of those in their lives today, but also those for whom they've worked hard to leave a legacy.
This article was produced on behalf of U.S. Trust by the Quartz marketing team and not by the Quartz editorial staff.
SURVEY METHODOLOGY: The 2014 U.S. Trust Insights on Wealth and Worth® survey is based on a nationwide survey of 680 high-net-worth and ultra-high-net-worth adults with at least $3 million in investable assets, not including the value of their primary residence. Among respondents, 33 percent have between $3 million and $5 million in investable assets, 33 percent have between $5 million and $10 million and 34 percent have $10 million or more. The survey was conducted online by the independent research firm Phoenix Marketing International in February of 2014. Asset information was self-reported by the respondent. Verification for respondent qualification occurred at the panel company, using algorithms in place to ensure consistency of information provided, and was confirmed with questions from the survey itself. All data have been tested for statistical significance at the 95 percent confidence level.