HONG KONG—Chinese tourists pouring into Hong Kong this week for a shopping holiday are getting an unexpected lesson in democracy from the city's tens of thousands of protesters demanding free elections. So far, most of them are unimpressed.
"We're just here to go shopping," says a young woman from Guangzhou, standing with a friend outside of a jewelry store on a shopping street in Mongkok, Kowloon that has been turned into one of several protest sites for demonstrators of Hong Kong's so-called "Umbrella Revolution." Nearby, an impassioned activist tells a crowd they can't afford to wait any longer for true democracy—now is the time. Asked her opinion on the protests, the woman, who would only give her surname, Guo, says, "I have no position."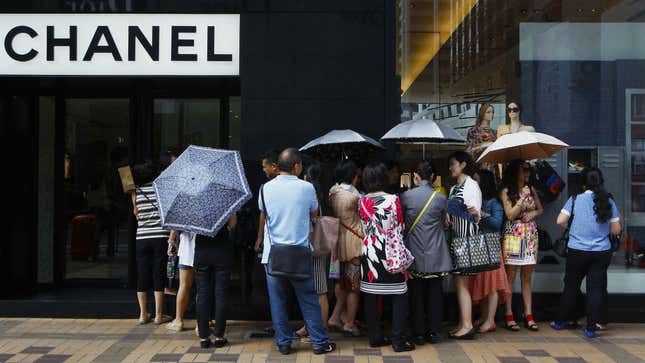 Some student demonstrators and pro-democracy public figures in Hong Kong have said that the larger aim of the movement, currently focused solely on Hong Kong, should be to bring democratic reforms to all of China. The arrival of thousands of Chinese tourists for the country's annual one-week holiday at the beginning of October—known as Golden Week for the amount of shopping and leisure travel that takes place—is one opportunity to start that process.
One woman handing out leaflets on Canton Road in another Kowloon neighborhood, Tsim Sha Tsui, where protesters have blocked traffic in between stores like Coach, Fendi, Dolce & Gabanna, Prada said mainland shoppers had only come up to ask for a bottle of water or some of the snacks on reserve for the protesters. They didn't inquire about the demonstrations. "But they can feel the atmosphere. I think they will see the other protests [around Hong Kong], and the news when they go back to their hotels. Tomorrow, maybe they will ask," says Yan Yeung Tsz, who was born and raised in Hong Kong.
But Chinese tourists in Hong Kong today seemed not only surprised to see their favorite shopping districts overtaken by activists, but also annoyed, and critical of the demonstrators. Shoppers hustled by a group of students, young professionals, and older local residents sitting along Canton Road, listening to speeches and folding yellow ribbons, a symbol of the protest. "Too much democracy can get chaotic," said a man from China's northern Shandong province, who would only name his surname, Ma, as he and his family observed the group.
Chinese authorities have kept a tight tight lid on news of the democracy movement that has brought tens of thousands into the streets of the semi-autonomous territory over the past week—protests are now in their fourth night with little sign of abating.
Chinese news outlets hew closely to Chinese state media's editorial stance, describing the movement as "an illegal gathering…disrupting social order and harming Hong Kong's economic livelihood." What little mainland Chinese have gleaned about the protests comes from friends and relatives living across the border, or from more determined internet users that have found ways around Chinese censors.
Perhaps because of that information blackout, Chinese visitors interviewed by Quartz said they couldn't see why Hong Kong, a city that under the so-called "One country, two systems," enjoys a free press, an independent judiciary, and a form of popular elections, would be the home of such mass discontent. "I don't understand why protests have suddenly erupted. 'One country, two systems' isn't so bad," said a 26-year-old woman from Zhejiang, whose last name is Liu. Others suspected that students and the other mostly young protesters have been manipulated by local politicians, organizers, or foreign governments—accusations that Chinese state media have made.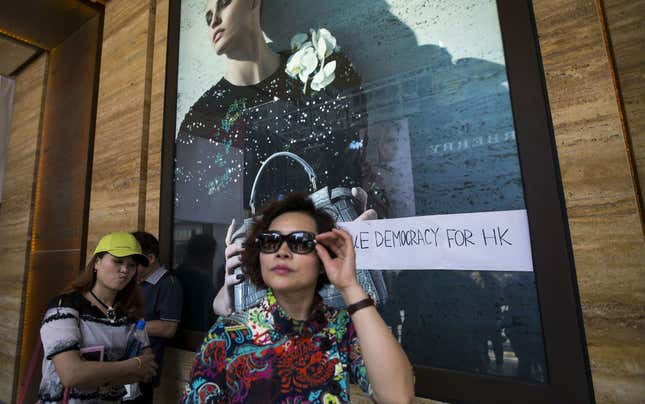 Also unimpressed are many mainland Chinese who live in Hong Kong and are aware of the issues angering locals, many of which are also problems in China—like prohibitively expensive housing, rising food and living costs, shrinking job opportunities. "I admire their courage… but I don't support them. I hope Hong Kongers can get the democracy that they are demanding, but the protests have really caused Hong Kong losses," says Xue Feng, 29, who moved to Hong Kong three years ago from Shandong province and now works in marketing.
And even those who support Hong Kong's democracy activists doubt whether the movement's methods will succeed. Katherine Cheung, 21, a psychology student at Hong Kong University, originally from Guangzhou, has been attending the protests and student boycott since early last week. She says she's not sure that the protesters' demands—the resignation of the current chief executive CY Leung and a restart of the electoral reform process—will really be met.
"I'm not sure what this will lead to. After a couple of days…nothing seems to be moving forward," she says. "People are losing a sense of what they are doing. I don't think boycotting is the best way to get what they want, but I don't know another alternative."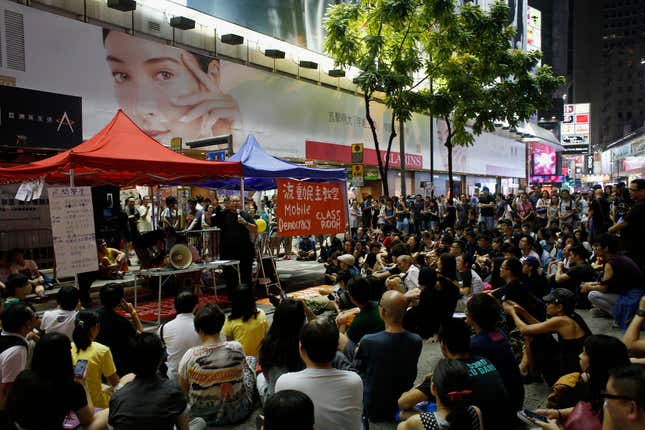 Cheung is even more skeptical that civic activism like protests or boycotting classes or going on strike—the various tactics used by Hong Kong's activists—can cross over to the mainland. Almost two dozen people have been detained in mainland China for supporting and circulating information about the Hong Kong protests, several of them had shaved their heads to show support. "I think it's not the right time in China. You cannot protest. The government is very different from Hong Kong's," Cheung says.
For the most part, many Chinese see the protests in Hong Kong as fundamentally a local concern, not theirs. The protesters also emhpasize that message. On Canton street, one demonstrator, speaking in Mandarin says to those passing by, "Please understand, this is a fight for Hong Kong people by Hong Kong people." Another shouts in Cantonese, "Tonight, Canton Road is ours!" Liu from Zhejiang is worried whether the situation will be the same in other major shopping districts like Causeway Bay on the main Hong Kong island. She asks: "Can I still go to the shops there?"