Long Shanghai. Short hogs.
Looking through the rearview window, that would have been a great trade to make at the end of June. Shanghai was one of the best performing global indexes during the three months of trading that ended yesterday, rising 15.4%. The third-quarter rally was the index's best performance since 2009, which is a bit strange. After all, the Chinese economy is in seriously rough shape, so it's likely an indication that the markets expect Chinese policy makers to swoop in prop growth.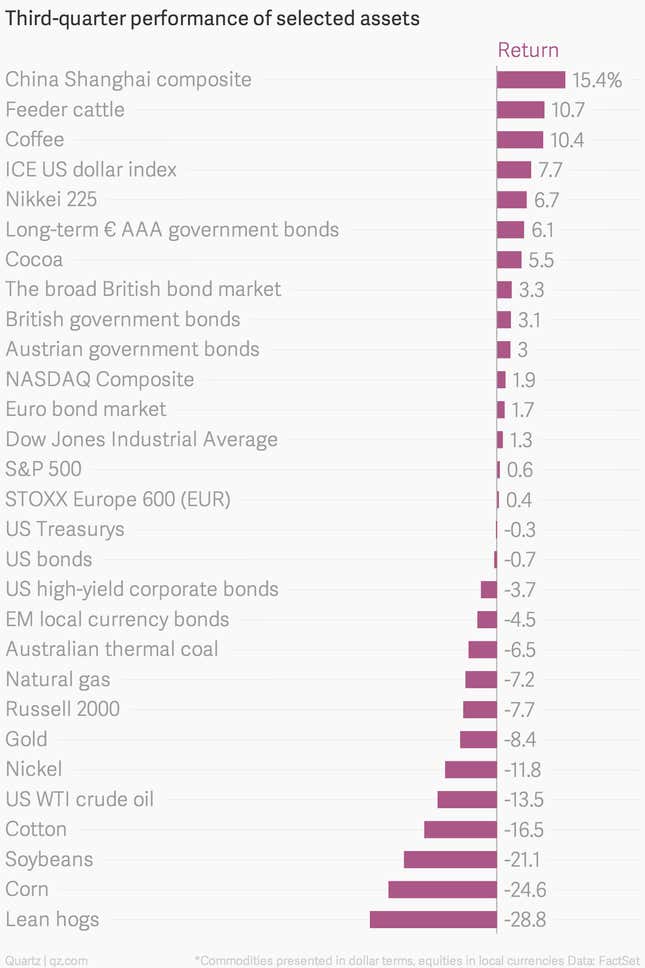 The big losers of the quarter were clearly commodities, which were poleaxed by weakening growth in the Chinese economy—a giant consumer of raw materials—and the surging strength of the US dollar. (All else equal, a stronger US dollar lowers the price of commodities priced in dollars.) The strong dollar also hurt bets on local currency bonds issued by emerging market countries and companies.
Of course, there were idiosyncratic stories. Drought conditions have forced ranchers to thin out cattle herds, resulting in higher beef and cattle prices. Surging supplies hammered corn prices. And pig prices plummeted, somewhat reversing a sharp rise seen earlier this year; investors worried less about the impact of a pig virus that had unsettled the markets. US small caps represented by the Russell 2000 index slipped sharply. This is hard to figure, given their high exposure to the improving US economy.