ABC Family is known for teen drama, implausible murder mysteries…and LGBT inclusion? The network earned an "Excellent" rating from GLAAD in a report released this week (pdf, page 24) on the prevalence and treatment of LGBT characters on American cable and broadcast television.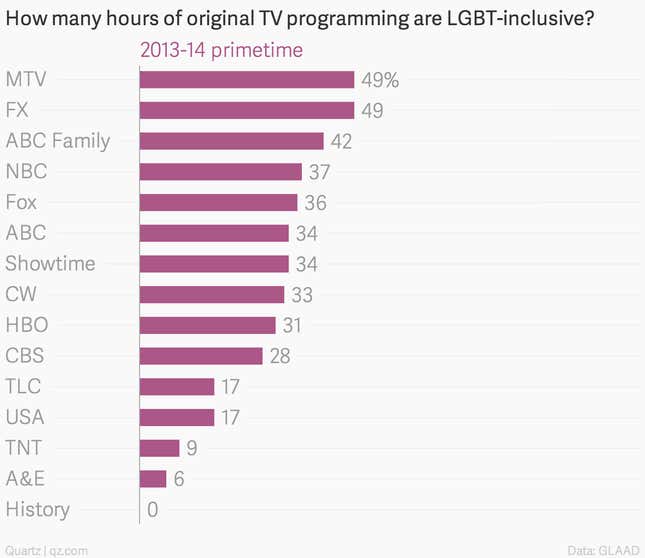 Out of 147.5 hours of original programming on ABC Family in the 2013-2014 season, 62.5 hours—42%—featured LGBT characters or story lines. The teen-targeted network has been including LGBT characters in its original narratives for at least eight years. Greek, a 2007 show about fraternity and sorority life, featured a gay black student who had relationships throughout the series, including with another fraternity member. A side plot in the first season of Pretty Little Liars was the coming out of a lesbian character, and since then her relationships have carried on without much comment about her sexuality.
Then came The Fosters, a show in its second season that centers around an interracial lesbian couple raising a family that includes foster children. It's responsible for many of the LGBT-inclusive hours on ABC Family, and has been praised as one of the best shows on television featuring LGBT families.
"Their version of family that they have presented … is very indicative of a lot of LGBT families and how they live their lives," says Matt Kane, GLAAD director of entertainment media.
The Fosters and Pretty Little Liars also include parts of the community that other networks don't—in the 2014-2015 television season, 69% of the LGBT characters in the primetime shows that GLAAD studied are white, and 56% are men. On ABC Family, 90% of the LGBT-inclusive hours in 2013-14 featured lesbian characters, and The Fosters also includes a transgender teen character played by a transgender actor.
There was a time when the "family" part of "ABC Family" might have required that LGBT people be kept off the screen—people equated an LGBT storyline with an mature or adult audience, Kane tells Quartz. But today, many young people recognize gay and lesbian relationships around them as normal. Disney-owned ABC Family is making a smart business decision by engaging this audience early, Kane says.
Shows like The Fosters reflect an attitude toward diversity that aids in storytelling—the premise includes diversity and that diversity informs the depth of the story.
Plus, as New Yorker TV critic Emily Nussbaum notes: "'The Fosters' is a perfect example of why it makes sense to bake diversity into the premise of a TV show—once it's there, you don't have to add it later, through romantic interests or a "diverse" plot in Season 3, as many cable dramas have done."
Of the networks that GLAAD analyzed (which did not include online studios Amazon and Netflix), MTV and HBO also received "Excellent" marks. MTV, like ABC Family, has made LGBT characters part of the fabric of many shows, and HBO is in the middle of the list in terms of hours featuring LGBT characters, but the programming—especially The Normal Heart—told stories extremely important to the community. (Though FX appears high on the list of networks that feature LGBT characters, the report points out that in many cases, their jokes and premises cross the line from provocative to offensive.)