Workers across the euro zone are staging mass protests today, Nov. 14, in public demonstrations that could stretch from Portugal to Turkey. The "European Day of Action and Solidarity", supported by the European Trade Union Confederation (ETUC), could involve as many as 40 trade member groups from 23 countries.
The organization's leaders are encouraging their members and others to rally against austerity measures, widespread unemployment, and what they say are the failed policies of Europe's leaders. General strikes are planned in Spain, Portugal and Greece, but protests are also taking place in Italy, Belgium, Britain, France, Germany, and in some Scandinavian and Eastern European countries.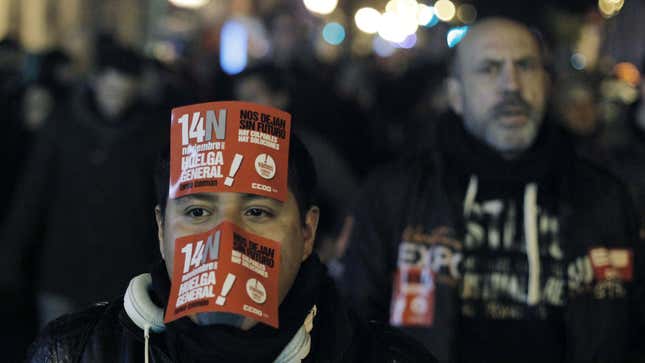 The ETUC released this statement:
Austerity is a total dead end, and must be abandoned. Social protection and wages can no longer be sacrificed. This is a social emergency, and it is time to listen to what the citizens and workers have to say, and to change course.
And this video:
Some protests started late last night, and violence has already erupted in Spain where police clashed with protestors. Dozens of people have been arrested, and 15 people were injured.
Today workers in public transport, at schools, and government offices are expected to walk off their jobs. Already disruptions are evident across Europe with trains and flights canceled.
UBS economist Paul Donovan quipped that the coordinated strikes across Europe, known as "the Day of Action", translates as the "Day of No Work."
Young people in Europe are being encouraged to not work as well, which shouldn't come as a challenge given more than 23% of them are without jobs.
Here's a Google map of where protests are planned from the ETUC: